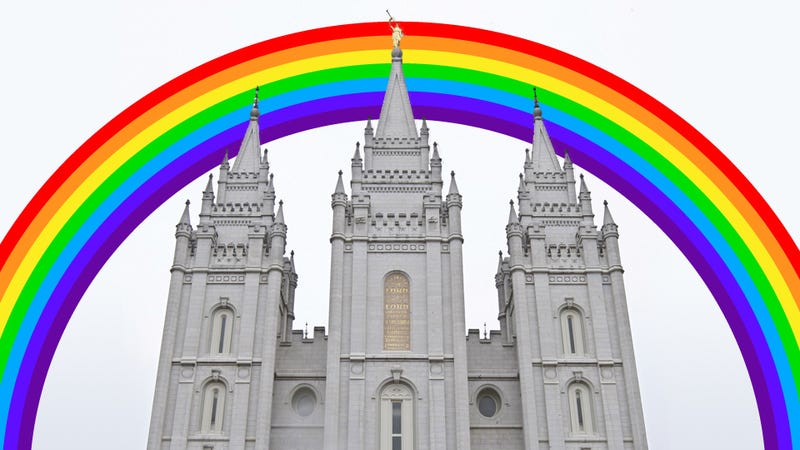 Yesterday, blogger and family therapist Josh Weed published a 6,000-word post on his personal site that he'd co-written with his wife of 10 years. In the post, Weed came out publicly for the first time. Still, he explained, he is a "devout and believing Mormon" who has been "very happily married to a woman" for a decade, and he and his wife plan to remain together. Here is a condensed and edited excerpt from his post. Weed will also be joining us in the discussion to answer your questions.
This is the post where I tell you that I, Josh Weed, am homosexual.
When my wife Lolly and I do tell people about this—and we've been telling a lot of people lately, so we've gotten really practiced at it—they usually have a lot of really good, genuine questions. Here are some of the questions we're most frequently asked (there really should be an acronym for that—I know! I'll call it a FAQ!). We hope answering these questions will help you understand how we make sense of this delicate and complicated issue in our lives.
What do you mean when you say you're "gay"?

When I say I am gay or homosexual or same-sex attracted (and I use these terms interchangeably, which is a personal decision) I refer specifically to sexual orientation. I am sexually attracted to men. I am not sexually attracted to women. It is very simple. I have many, many years of experience which confirm this to be true, but it's really as simple as what a girl asked me in junior high—and I'm sorry if this is a little blunt, but I've never found a question that cuts to the heart of the matter more effectively—"so, if everyone in this room took off their clothes, would you be turned on by the girls or the guys?" My answer, which I didn't say out loud, was unquestionably the guys. And it was unquestionably not the girls. And that still is my answer. It's really not very complicated. Most people just don't think about their sexual orientation because they don't have any reason to.
Why have you decided to share this information?
We have several reasons for opening up about this part of our lives. First and foremost, my clinical work as a therapist is taking me in the direction of helping clients who struggle to reconcile their sexual orientation with their religious beliefs. I have decided to be open with these clients about my own homosexuality, and in doing so have opened the door to people finding out about this in ways I can't control. The second reason is that the issue of homosexuality is not very well understood. We wanted to add our voice and experience to the dialogue taking place about this very sensitive issue. Thirdly, I feel the desire to be more open regarding this part of my identity. I have found that sharing this part of me allows my relationships with others to be more authentic. It has deepened my friendships and enhanced my interactions, and it has also helped me to feel more accepted by others as it allows others the opportunity to choose to accept me for who I really am.
When did you know you were gay?

I knew I was gay when I was 11 or 12. That's the onset of puberty, when humans begin to feel sexual attractions. For a little while I was waiting for the attraction to girls to set in because that's what everyone said would happen, but then there was a sinking moment of realization—a thought like "oh, this thing for guys is its replacement." I told my parents shortly thereafter, when it seemed pretty clear that my sexuality wasn't playing a trick on me, and the girl thing wasn't going to happen, but the guy thing was totally happening. I was 13 when I told my dad (a member of the Stake Presidency—which is a lay leader in the Mormon church—at the time). My parents were incredibly loving and supportive, which is part of why I believe I'm so well adjusted today.
I am gay. I am Mormon. I am married to a woman. I am happy every single day.
If you're married to a woman, how can you really be gay?

This is a really good question and I can see how people can be confused about it. Some might assume that because I'm married to a woman, I must be bisexual. This would be true if sexual orientation was defined by sexual experience. Heck, if sexual orientation were defined by sexual experience, I would be as straight as the day is long even though I've never been turned on by a Victoria's Secret commercial in my entire life. Sexual orientation is defined by attraction, not by experience. In my case, I am attracted sexually to men. Period. Yet my marriage is wonderful, and Lolly and I have an extremely healthy and robust sex life. How can this be?
The truth is, what people are really asking with the above question is "how can you be gay if your primary sex partner is a girl?" I didn't fully understand the answer to this question until I was doing research on sexuality in grad school even though I had been happily married for almost five years at that point. I knew that I was gay, and I also knew that sex with my wife was enjoyable. But I didn't understand how that was happening. Here is the basic reality that I actually think many people could use a lesson in: sex is about more than just visual attraction and lust and it is about more than just passion and infatuation. I won't get into the boring details of the research here, but basically when sex is done right, at its deepest level it is about intimacy…. the circumstances of our marriage allowed us to build a sexual relationship that is based on everything partners should want in their sex-life: intimacy, communication, genuine love and affection. This has resulted in us having a better sex life than most people I personally know. Most of whom are straight. Go fig.
Did your wife know you were gay when you married her?

Yes. I told Lolly about my homosexuality when I was 16 and we were on a date. In fact, I recently just wrote a humor post about that day. Here it is: vomit—a story of romance. That may have been the most important day (and was definitely the most important date) of my life.
[Ed. note: Lolly wrote her own essay on her relationship with Josh over at his blog. We've condensed the reading here, but encourage you to go read it.]
Why do you not choose to be "true to yourself" and live the gay lifestyle?

First of all, I understand that when people refer to a "gay lifestyle" they are talking about a lifestyle that includes gay romantic and sexual relationships. But I want to point out that because I am gay, any lifestyle I choose is technically a "gay lifestyle." Mine just looks different than other gay peoples'. My hope is that other gay people will be as accepting of my choices as they hope others would be of their choices.
But that doesn't really answer the question. And it is an important question.
One of the sad truths about being homosexual is that no matter what you decide for your future, you have to sacrifice something. It's very sad, but it is true. I think this is true of life in general as well. If you decide to be a doctor, you give up any of the myriad of other things you could have chosen. But with homosexuality, the choices seem to be a little bit more mutually exclusive. If you are Mormon and you choose to live your religion, you are sacrificing the ability to have a romantic relationship with a same-sex partner. If you choose a same-sex partner, you are sacrificing the ability to have a biological family with the one you love. And so on. No matter what path you choose, if you are gay you are giving up something basic, and sometimes various things that are very basic. I chose not to "live the gay lifestyle," as it were, because I found that what I would have to give up to do so wasn't worth the sacrifice for me. The things I wasn't willing to part with were the following:
1. I believe the doctrine of the Mormon Church is true. One of the key doctrines of the church is that "marriage between a man and a woman is ordained of God and that the family is central to the Creator's plan for the eternal destiny of His children." Another is that "children are entitled to birth within the bonds of matrimony, and to be reared by a father and a mother who honor marital vows with complete fidelity." These are things I personally believe.
2. I am a traditionalist at heart. I wanted a wife. I wanted to raise children that were biologically the product of me and the one I love. Thankfully, Lolly was willing to marry me, and we found ourselves able to conceive children. I have three incredible daughters. Every moment with them is true joy.
3. I love Lolly Shea. (In my mind, she will always be Lolly Shea, the girl that I've known since I was three years old.) I want to be with her for the rest of my life.

I find that when I think of what alternative lifestyles could offer me, they pale in comparison to the full, joyous, bounteous life I live. Thus, I believe that to live my life this way is being true to myself, and to go down any other path would be egregiously inauthentic and self-deceptive.

Should all gay people who are LDS or Christian choose to marry people of the opposite gender?

I want to make it very clear that while I have found a path that brings me profound joy and that is the right path for me, I don't endorse this as the only path for somebody who is gay and religious. I will never, ever judge somebody else's path as being "incorrect" and I know many people who have chosen different paths than myself.

If you know and love somebody who is gay and LDS (or Christian), your job is to love and nothing more. Let go of your impulse to correct them or control them or propel them down the path you think is right for them. Do what you need to do to move past that impulse. Do not condemn the choices your loved one makes. Love. Only love. Show your love in word and deed. Embrace them, both literally and figuratively. I promise they need it—and they need to feel like they can figure out this part of themselves in a safe way without ridicule and judgment. It's what Christ would do. It's what your loved one needs. Accept them. Love them. Genuinely and totally.

This is a moment where whatever your feelings on the subject may be, you are reading the words of a real live person who is telling the truth. I am not lying to you right now. I have no reason whatsoever to share this with you besides to add a voice to the global discussion so that someone who might feel hopeless and lonely and devoid of role models or voices to trust can find all the information about their options available. I do so at great risk. I do so in spite of probable backlash from people I know as well as perfect strangers. I do so knowing that I will be misunderstood and possibly maligned—called a fraud, and told that my most intimate relationships are a sham. That I might be called Satanic, or told that I am the epitome of self-deception.

But the reason I do this is because I love you, whoever you are, and I want to share my situation so that you can know further truth: I am gay. I am Mormon. I am married to a woman. I am happy every single day. My life is filled with joy. I have a wonderful sex life. And I've been married for ten years, and plan to be married for decades more to come to the woman of my dreams.

All of these things are true, whether your mind is allowing you to believe them or not.

---

Josh Weed is a marriage and family therapist. He writes regularly at his blog, The Weed.



Republished with permission. You can find the original post here.

Image by Jim Cooke. Photo via Gettypic