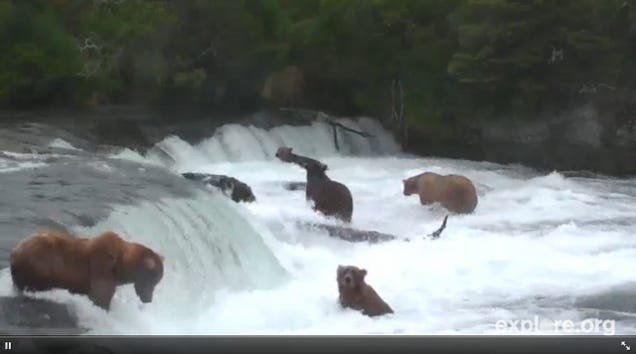 From the people who brought you Service Puppy Cam and Siku Cam 1 and 2 comes Brown Bear & Salmon Cam — the latest Internet time-waster that has Internet users everywhere wasting their time!
Trained on hungry, hungry brown bears hunting Sockeye Salmon on the Brooks River in Alaska's Katmai National Park and Preserve, the Brown Bear & Salmon Cam offers occasionally-stop brown-bear-on-salmon action 17 hours a day!
So grab an official Brown Bear & Salmon Cam souvenir program [pdf], click play, and you'll be wasting your time in no time!
[Uproxx via @lizzieohreally]