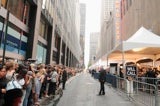 "The movie studio gave out way more promotional tickets than could fit in the orchestra," said one insider. "Radio City managers told the New Line people, 'You can solve this by opening up the mezzanines, which have 2,700 more seats - but they wouldn't do it."



However, a New Line source countered, "It was Radio City Music Hall making that decision. They took control of the fan line. They turned the fans away."
People get upset about Sex And The City selling vacuous lies — about New York, about relationships, about sex, about life — but now the enterprise has gone and done something that really will, for once, help hundreds of its most fervent fans start behaving more independently.
[Post]