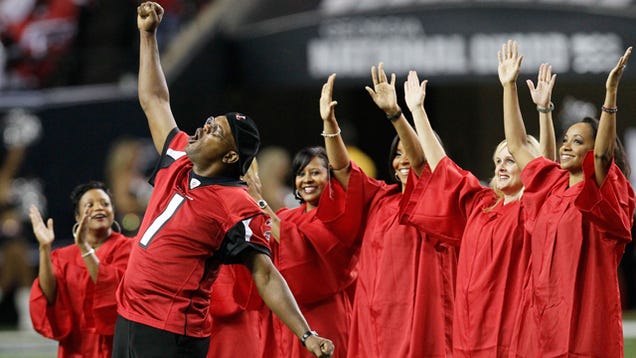 As Team USA slides ever further behind China in the race to acquire the most gold necklaces this Olympics, America's athletes need a cheerleader. A cheerleader who will root for them with passion that is unbridled, unrivaled, and, at times, unsettling. A cheerleader who loves them more than their parents do.
Actor Samuel L Jackson is that cheerleader.
Samuel L. Jackson's Twitter page is, above all, an excitable place. It's a place bursting with pride: for Americans, for athletes, for humans in general.
With CAPSLOCK, exclamation points!, and the insertion of variations of the word "motherfucking" into the middle of various no-mohfukking-uns, Jackson creates an M. C. Escher-esque quarantine zone of Olympic fever, where nationalism mixes with joy on top of adrenaline that is walking upside down on a sideways staircase next to glory.
Even when a rare misstep by Team USA causes Samuel L. Jackson's lips to pucker—for a moment—with the bitter taste of defeat, he remains unflaggingly positive, focusing not on the loss at hand, but the excitement of sport:
But not all is high fives and fist pumps in the world of Samuel L. Jackson's Olympic Twitter obsession.
The actor, who watches the Olympics more closely than perhaps any other human being in America or on Earth, frequently voices his opinion that the Olympic judges are behaving less than honorably.

It's hard to identify which sport is Jackson's favorite, since it seems from the tweets like every sport is his favorite. But his very very super special number one absolute favorite might be women's gymnastics.
While all of the other sports generate reams of enthusiastic appreciation from Jackson, it's when discussing women's gymnastics that he really starts to get creative.
Nt only with his praise.
Also with his burns.
Samuel L. Jackson displays an insider's familiarity with the women's gymnastics. Here he is praising the U.S. "GYMUPHUGGINASTERS"' performance on balance beam — the event considered by many gymuphugginasters to be the most difficult in competition:
He can even speak knowledgeably about Women's Olympic Gymnastics: A History. Here, Jackson observes that the balance of power has shifted since the glory days of Romanian power-coach Béla Károlyi, and also that he is sleepy:

Below is a list of events Jackson has followed thus far in the Games. Read through his Twitter backlog for frenetic, ebullient coverage of each.
(Unless otherwise noted, assume that Samuel L. Jackson has provided color commentary on both the men's and women's competitions.)
Gymnastics
Badminton (BADMUHFOUGHCCENMINTON)
Table Tennis
Archery
Handball
White Water Kayaking
Swimming
Water Polo
Beach Volleyball
Basketball
Soccer
Field Hockey
Weight Lifting (Women's)
Cycling
Boxing (he found it "BORING!")
If there were a gold medmuffuggindal for enthusiasm, Samuel L. Jackson, you would win it.
[@SamuelLJackson // Image via Getty]