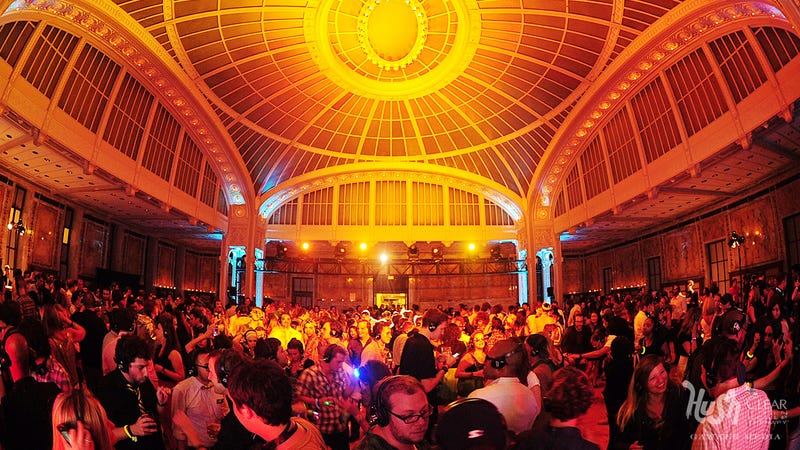 The library is just about the last place most people expect to be on a mid-summer night. And yet, in a city over run by cheesy clubs, crowded streets, and noisy, sweaty tourists, the hallowed stacks of the New York Public Library might just be the perfect escape – especially when said stacks act as the backdrop to one of the season's best events.
Last Thursday, guests of Gawker Media were ushered between the NYPL's two iconic stone lions Patience and Fortitude (yes, those are really their names), through the quiet, marble halls, and into HUSH, our annual "silent disco."
Partygoers decked in gold danced under the gilded Beaux-Arts dome, amused themselves with dangling amuse-bouche from Pinch Food Design, and got GIFed at Clear Men Scalp Therapy'sTM Bosco photo booth.
At first, it seemed as if someone had missed the memo about the whole "silent" part of the "silent disco," with D.J. Kalkutta busting out some very audible tunes. Then, halfway through Dapwell's (of Das Racist fame) D.J. set, the sound went off, the headphones went on, and things got weird (like, good weird).
By the time Yeasayer's Chris Keating manned the decks, the whole crowd was writhing to music inside their own heads. Had a lost librarian looked in, they would have seen girls in gold hot pants, bowtied gentleman wielding umbrella-ella-ellas, and hundreds of Southern Comfort-clutching guests grinding and two-stepping without a decibel of music pumping through the sound system.
Swaying guests eventually left grinning, proving that even in our snarky new media world, libraries still serve a purpose.
Extra special thanks go to Clear Men Scalp TherapyTM for helping make it the best night ever.