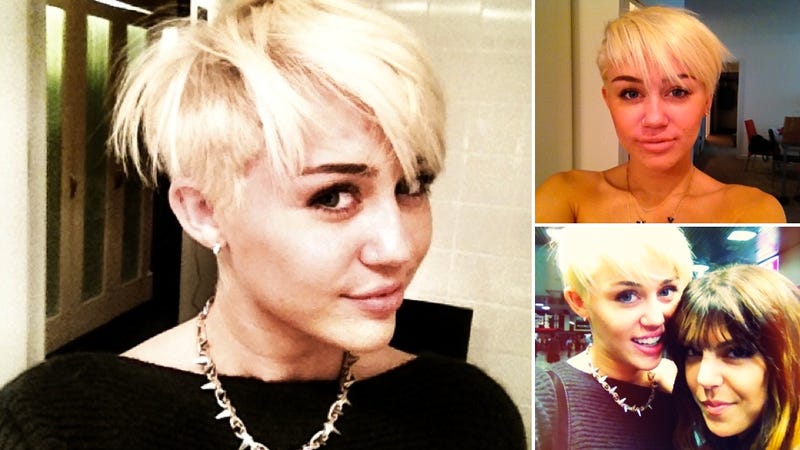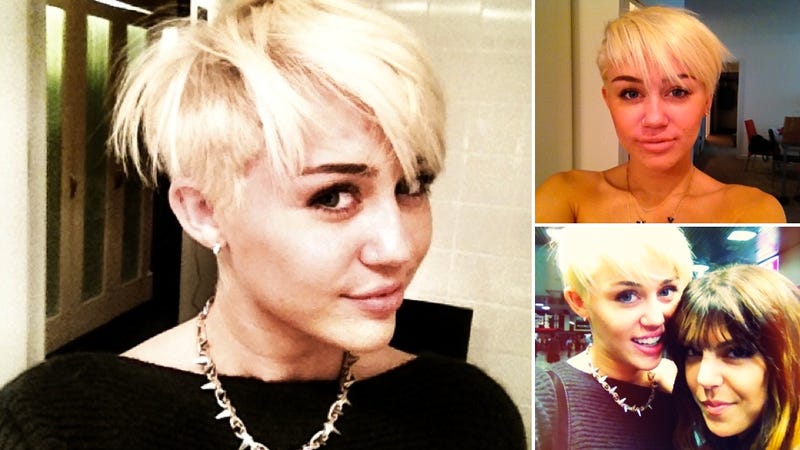 Miley Cyrus, the excitable youth with the speaking voice of a trucker and the singing voice of an angel who died while working as a trucker, has just debuted a half-shaved, half-shag platinum bob monstrosity, that looks like Robyn Fenty's haircut had sex with Robyn "Dancing On My Own"'s haircut in a peroxide Jacuzzi while, across town, some drunk hobo gave Miley Cyrus a very bizarre haircut.
Cyrus documented the hackjob via her Twitter account.
First, she tweeted images of celebrity stylist Chris McMillan's scissors closing ominously around her golden bun. (McMillan is the creator of "The Rachel," the haircut around which the comedy series Friends was loosely based.)
A few hours later, she uploaded images of the finished look, along with several messages warning haircut detractors to keep their comments to themselves.
She also shared a bit of fatherly advice, from her TV-dad Billy Ray Cyrus:

A variation of this phrase, which a h8r might say, is "New haircuts are like assholes and Miley Cyrus' stinks." Rude. Bye, h8r.
Indeed, even though this is precisely the type of haircut that regularly reduces young women to tears on America's Next Top Model, Cyrus seems very pleased with it, which is lovely to see.
She even retweeted a video from a Twitter account called Miley's Dogs (a "fan account" for Miley Cyrus' dogs) of herself as a 15-year-old—four years ago—vowing one day to recreate the "Twiggy" for herself.
Kirstie Alley also likes the haircut, and is desperate for Miley Cyrus to like her.

[Twitter]