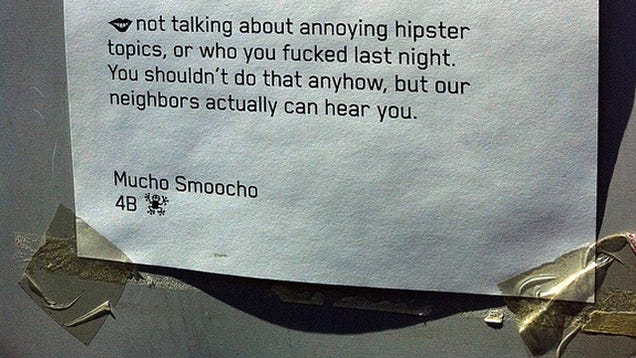 A coffeeshop in San Francisco has just posted a list of rules for patrons wishing to drink coffee in its alley, an exclusive alley available only on weekends or whenever you wander down the alley.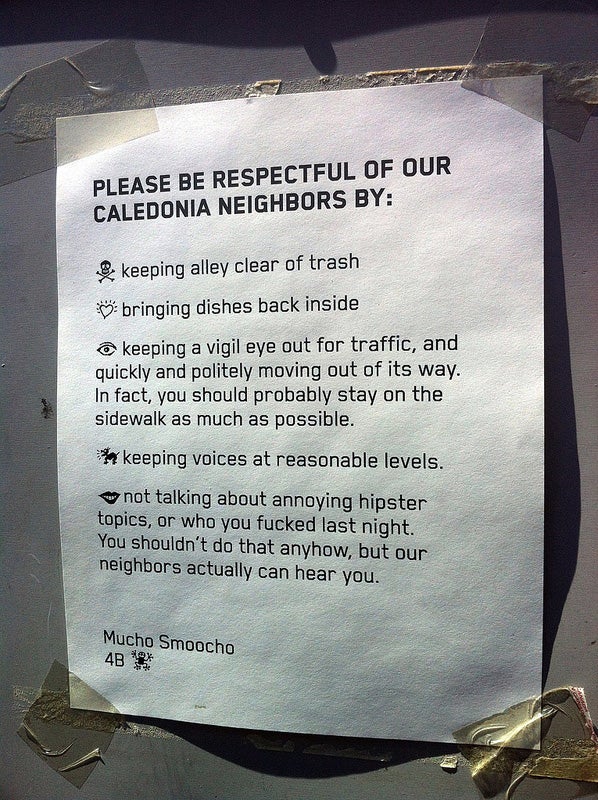 As noted by SFist, most of the rules are obvious. Don't litter, bring in your dishes, watch out for cars. The most difficult rule for patrons to follow will undoubtedly be the ban on "talking about annoying hipster topics."
"PLEASE BE RESPECTFUL OF OUR CALEDONIA NEIGHBORS BY:
…not talking about annoying hipster topics, or who you fucked last night. You shouldn't do that anyhow, but our neighbors actually can hear you."
The list ends with the sign-off "Mucho Smoocho" which seems itself like a sort of ironic (and therefore hipster?) valediction.
In case anyone is looking to drink coffee in an alleyway this weekend, here's a handy list of hipster topics and not hipster topics:
BANNED topics:
Music (especially bebop)
Bicycles/unicycles
Stripes
Glasses
Denim
Money (having none of it or having a lot of it)
Solange
Who you fucked last night
Nightshade
Left-handedness/ambidexterity
Jon
The written word
Beards (appreciation of)
Anything that happened before 2000
APPROPRIATE topics:
Paul Ryan (in a non-sneering tone)
Tricycles
Contact lenses
Twill-cotton blends
Money (having a normal amount of it)
Beyoncé
Who you made beautiful love to last night
Sunflowers
John
Right-handedness
Beards (disapproval of)
The future