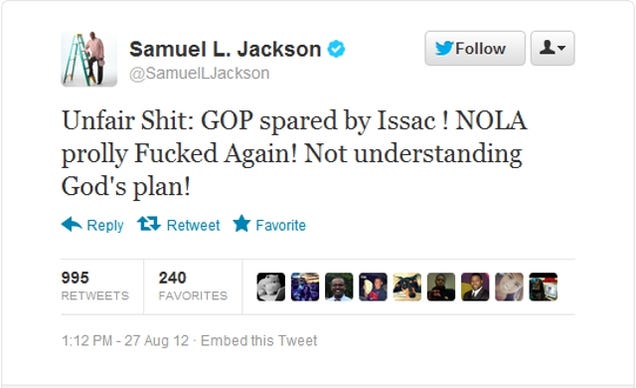 Perpetual badass Samuel L. Jackson ruffled a few Twitter feathers yesterday when he took to the social networking site to vent his frustration about Tropical Storm Isaac's New Orleans-bound track.
"Unfair Shit: GOP spared by Issac ! NOLA prolly Fucked Again!" the Snakes on a Plane star tweeted. "Not understanding God's plan!"
After being called an assortment of names for the better part of an hour, Jackson tweeted again, this time apologizing for his previous tweet:
Thirty minutes later, after a few more nasty @replies, Jackson posted another tweet, this time walking back his previous apology:
Meanwhile, Isaac is still barreling toward Louisiana, and could become a hurricane before it makes landfall early Wednesday morning.
[H/T: The Hill, tweets via @SamuelLJackson]