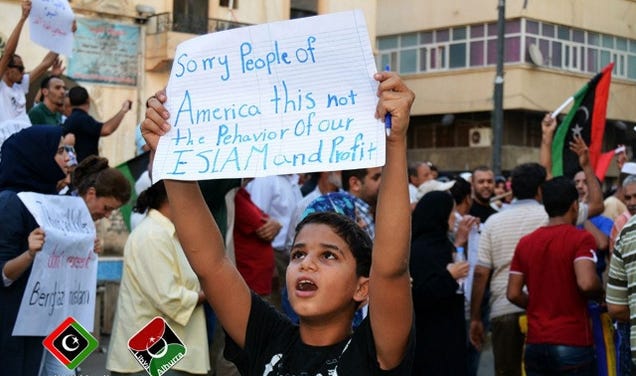 In an effort to demonstrate that the al Qaeda-affiliated group reportedly behind the deadly attack on the US consulate in Benghazi does not represent the city's residents, many Libyans today took to the streets with signs of apology and support.
In photos posted online by Internet media outlet Libya Alhurra TV (Free Libya TV) and the Libyan Center for Documentation, citizens of Benghazi can be seen holding bilingual signs with anti-terror slogans such as "this does not represent us" and "no place for Qaeda within us."
Snapshots posted on Twitter show a similar solidarity demonstration taking place in Tripoli.
Libya's interim leader Mohammed Magarief said in a statement today that both the National Congress and the transitional government "condemn the criminal aggression," and vowed to bring the perpetrators to justice.
[H/T: Reddit, The Atlantic Wire, photos via Imgur, Facebook, Twitter]