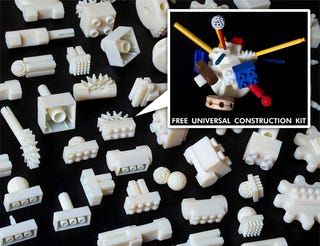 The annual Ars Electronica Festival for Art, Technology, and Society just happened, where some of the world's most incredible cutting-edge artists, technologists, designers, scientists, thinkers, and more came together to celebrate their creations, like NOTCOT editors Shawn Sims and Golan Levin's Free Universal Construction Kit. It generates open source 3D printable toy adapter pieces to connect your Legos to your Lincoln Logs.
Take a peek at some of the other incredible projects in the gallery above, and if you're curious to see all of this year's Ars Electronica winners, click here.
---
This post is republished from Notcot in partnership with Federated Media and smartwater.
---
Solar Sinter
Markus Kayser's "Solar Sinter" aims to raise questions about the future of manufacturing and triggers dreams of the full utilisation of the production potential of the world's most efficient energy resource — the sun. Whilst not providing definitive answers, this experiment aims to provide a point of departure for fresh thinking.
Ideogenetic Machine
Nova Jiang's "Ideogenetic Machine" is an interactive installation that incorporates portraits of participants into an algorithmically generated comic book. A camera captures the portrait live while an algorithm transforms the photographic image into a "line drawing." Face recognition is used to insert code-generated blank speech bubbles into the narrative.
Rear Window Timelapse
Jeff Desom's "Hitch; Rear Window Loop" is a visual stitch of Alfred Hitchcock's infamous film. The installation loops the entire courtyard's action from one view.
Caldera
Caldera is an animated short film inspired by individuals struggling with psychotic disorders, and venerates the brilliant minds forged in the haunted depths of psychosis.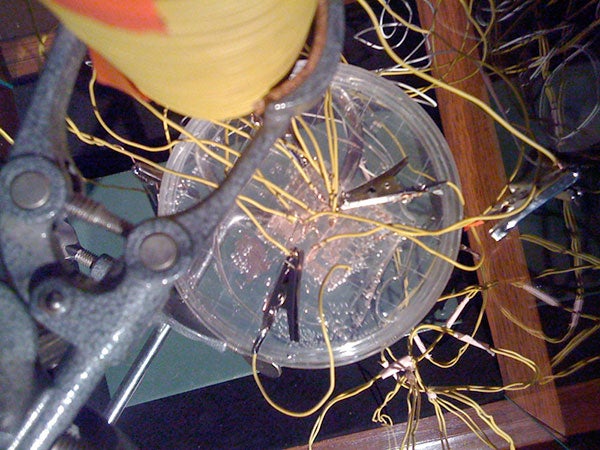 Bacterial Radio
Joe Davis' "Bacterial Radio" exhibits several bacterially-grown platinum/germanium electrical circuits (crystal radios) on glass substrates. Joe Davis, in collaboration with Ido Bachelet and Tara Gianoulis from Harvard Medical School in Boston, used bacteria altered with variants of a gene from orange marine puffball sponges (Tethya aurantia) to plate electronic circuits on Petri dishes and microscope slides.
---
This post is republished from Notcot in partnership with Federated Media and smartwater.
---