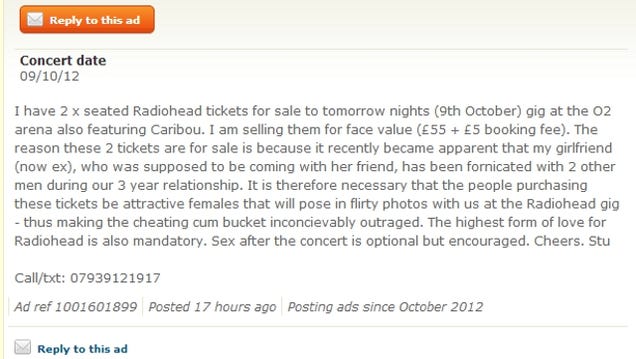 Radiohead is slated to perform the final UK gig of its current world tour at London O2 Arena this evening, but at least two people definitely won't be in attendance: Stu's cheating girlfriend (now ex) and her friend.
Instead, those seats will likely be occupied by two other people — "attractive females" to be exact — to whom Stu hopes to sell his cheating ex-girlfriend's tickets through the online classifieds site Gumtree (sic throughout).
"The reason these 2 tickets are for sale is because it recently became apparent that my girlfriend (now ex), who was supposed to be coming with her friend, has been fornicated with 2 other men during our 3 year relationship," Stu explains in an online ad he posted under the "Concerts" category. "It is therefore necessary that the people purchasing these tickets be attractive females that will pose in flirty photos with us at the Radiohead gig - thus making the cheating cum bucket inconcievably outraged."
He also encourages his attractive female companions to have sex with him after the concert, but notes that this particular term is "optional."
The vengeful Radiohead fan already has at least one fan of his own: Breaking Bad's Aaron Paul, who tweeted a link to the ad in hopes of finding its author. "Whoever this guy is please find me at Radiohead!!" Paul wrote. "I'm sitting in level 1 Block 112 row U. I MUST hangout with you!"
Paul was also in the crowd during last night's show, when he hung out with another ladies man: Pierce "James Bond #5" Brosnan.
[H/T: NME, HyperVocal, screengrab via Gumtree]