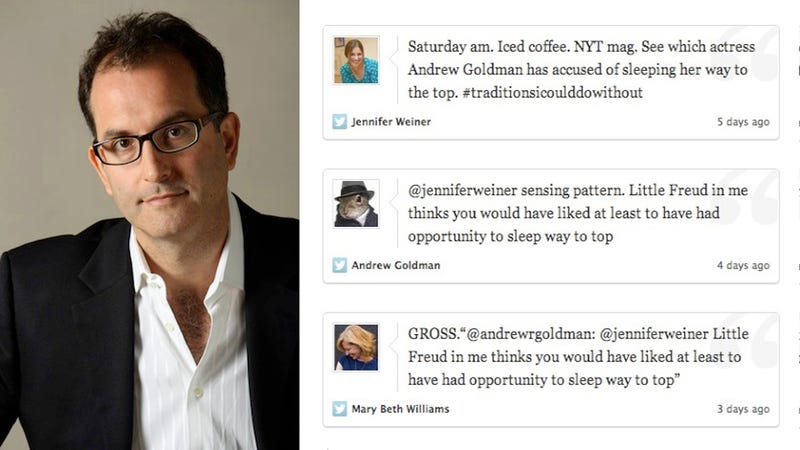 The New York Times Magazine has suspended reporter Andrew Goldman, who conducts the magazine's weekly Q-and-A columns, for one month over an insulting Twitter post he directed at the writer Jennifer Weiner. The paper has also clarified its social media policy, encouraging it's reporters to always be nice on Twitter. (Which defeats the purpose of Twitter.)
Earlier this month, Weiner criticized Goldman on Twitter for purportedly asking the actress Tippi Hedren if she had ever considered sleeping with directors in Hollywood to advance her career (he had in fact not asked her that). Goldman responded by suggesting that Weiner herself wasn't attractive enough to sleep her way to the top. He later apologized and deactivated his Twitter account.
Last week, Times public editor Margaret Sullivan harshly criticized Goldman, calling him a "highly replaceable freelancer" and writing that it was "extraordinarily generous" of his bosses not to fire him outright. She never contacted Goldman to seek his side of the story. I wrote about Sullivan's column here.
Anyway, Goldman is out a month's pay, which may or may not be fair, depending on your view of the situation. For comparison purposes, here are some other punishments that have been meted out to Times reporters for various offenses:
Reporter Fox Butterfield was suspended for one week in 1991 for plagiarizing material from the Boston Globe.
Reporter Rick Bragg was suspended for two weeks in 2003 for filing stories with misleading datelines—claiming to have reported a story from a specific location when he had in fact merely "touched down" there and gone home.

Sullivan wasn't responsible for deciding Goldman's punishment. But it's worth noting for comparison that when she ran the Buffalo News, she presided over a sportswriter who was caught plagiarizing named Rodney McKissic. His punishment? A month's suspension.

(It's also worth noting that Goldman is a friend of mine.)