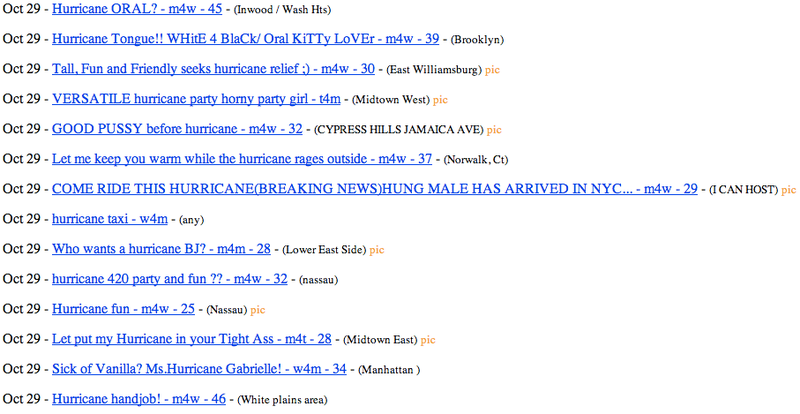 While many of us in New York City spent last night fleeing to high ground or cowering in the bathroom, others had a better idea: hit up Craigslist for a "casual encounter."
"ANY QUEENS FEMALES WANNA GET AS WET AS 'HURRICANE SANDY'." wondered one 5'9" "Sexy Whiteboy," including in his post, for reasons only he could possibly understand, a photo of his car.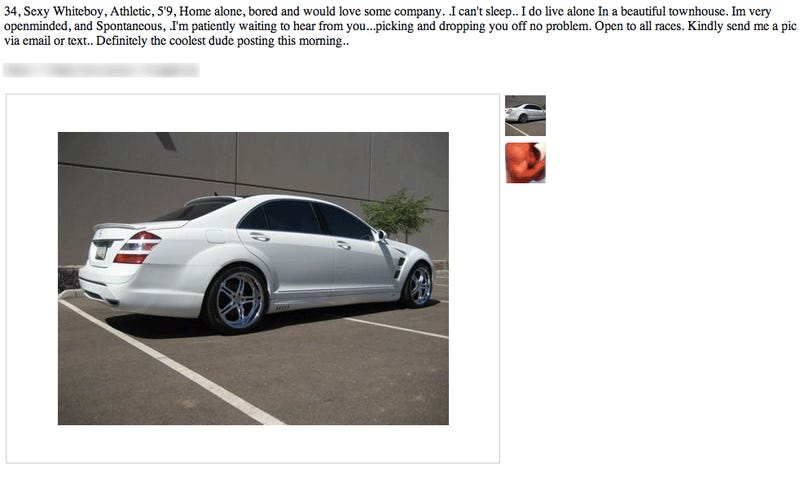 Indeed, whiteboys were out in full force yesterday. At 1:44, a group of five "Upscale White Guys" sought out "one or two great looking strippers" for a "hurricane party":

And at 3:41 a "hipster boy" in Astoria checked in looking for someone on whom "to practice his oral talents this afternoon":

Or maybe you're looking for something a little more direct?

Or maybe you have a fairly specific fetish? Say for "sexy young Hasidic stud[s]"? Hipster shiksas, look no further:

Don't forget: in some cases you're actually doing someone with severe anxiety a service by answering her hurricane ad and letting her "lick your ass." Your ass is like a Xanax.

-Max