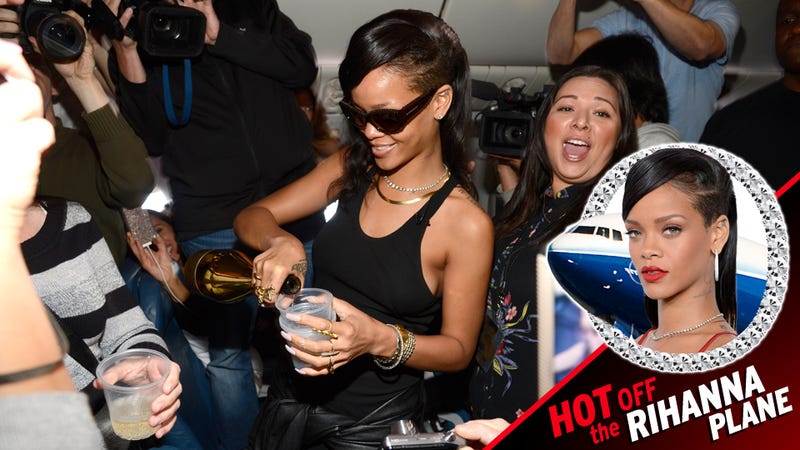 For years, the world has gazed at Rihanna's tour plane from a distance — watching the mysterious and guarded vehicle from afar, hearing only small snippets of news from Rihanna-controlled media organs, relying entirely on accounts of refugees and political exiles. But in a historic display of glasnost, the Barbadian pop star has invited hundreds (literally! 200!) of journalists and fans to join her on a Boeing 777 for a seven-day, seven-country, seven-concert mini-tour, called #777Tour (pronounced: hashtag-seven-seven-seven-tour).
These are their stories.
The tour started in Mexico City on Wednesday night and will continue in Toronto tonight; tomorrow they're off to Stockholm.
What is the plane like?
"The plane is, as you might expect, luxurious," Maud Deitch reports.
What was the pre-plane experience?
There were "a few trips on and off the bus when arriving to a private boarding space at Los Angeles International Airport — due to the busses not communicating with the airport beforehand," Erika Ramirez claims.
How are the seats on the plane arranged?
"The inside of a 777 is set up so that you're seated in three columns of three," according to Mary H.K. Choi.
What were some things Rihanna said over the plane intercom?
What kinds of supplies are being provided? Are they comprehensive, toiletry-wise?
"[W]e got overnight kits on the plane and they're pretty comprehensive, toiletry-wise," Julianne Smolinski advises. Also:
What is the atmosphere on the plane?
What did the tickets for the Mexico City show look like?
Rihanna: her smell?
"No one else on earth smells like Rihanna," confirms Julianne Escobedo Shepherd.
How are the Germans doing?
---
Throughout the #777Tour, Gawker.com will be bringing you updates about the status, location, activities and smells of the Rihanna Plane and its inhabitants, cobbled together from the distorted dispatches of the embedded Rihanna correspondents.