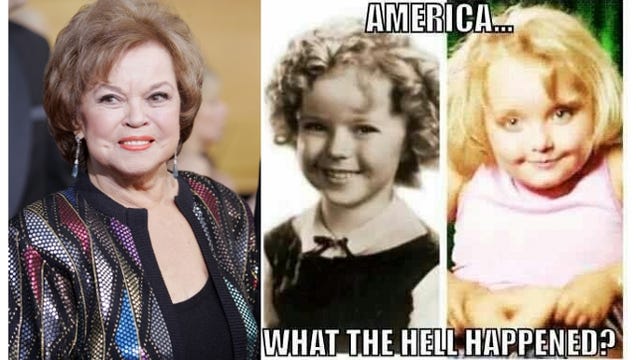 Hollywood's most famous former child star Shirley Temple Black (sorry Jackie Coogan!) has been keeping a very low profile since serving as the United States Ambassador to Czechoslovakia under President George H. W. Bush.
But this week the curly-topped virgin cocktail eponym made a sudden reappearance on Twitter of all places.
Though her account is presently unverified, it appears to have been confirmed by several people in the know, including fellow silver screen legend Dick Van Dyke with whom Temple had a fairly surreal Twitter exchange.
With direct access to one of most iconic thespians to ever pose for celluloid during Hollywood's Golden Age, the thoughts of Twitter users immediately turned to a single question: What does Shirley Temple think of America's latest little sweetheart, Honey Boo Boo.
"i have been asked what i think of 'honey boo,'" the 84-year-old replied. "Can someone tell me who that is~"
Canadian supermodel Coco Rocha later revealed herself to be the source of the Honey Boo Boo question.
"I can't believe I tweeted at Shirley Temple about Honey Boo Boo this morning. #Yolo," Rocha tweeted.
And I can't wait until Shirley Temple uses the hashtag #Yolo.
UPDATE: Turns out the unverified account was unverified for a reason. Shirley Temple's reps say their client hasn't joined Twitter and continues to live a private life.
Should have known something was off when she claimed not to know who Honey Boo Boo is.
[photo via AP, macro via Twitter]