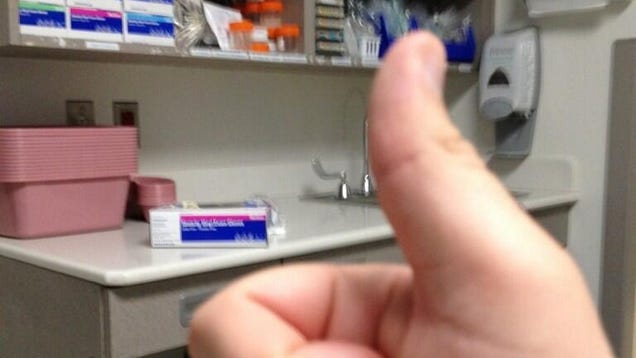 Guess who has at least one thumb and got a vibrating dildo stuck up his ass? Twitter user televised snowmang.
The oversharing enthusiast announced last night to his several hundred Twitter followers (a number that grew exponentially thereafter) that he'd somehow managed to get a vibrating dildo stuck inside his body and needed medical assistance to remove it.
What followed was a TMI livetweet to end all TMI livetweets (sorry Women's Memorial Hermann Hospital at Memorial City Medical Center in Houston):
In between insisting the entire ordeal was all too real (but not that painful), @Grawly dropped a few photos to authenticate his story, including one of the X-ray machine that snapped a pic of his shame, and one of an ironic ad that aired on the hospital's TV set while he was awaiting the dildo's extraction.
The definitive proof — the X-ray itself — is forthcoming, snowmang vowed in his latest Tweet, so hold on to something.
UPDATE: And here it is: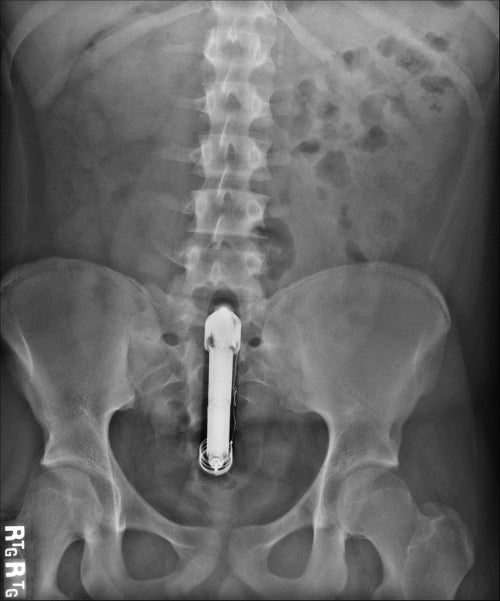 [H/T: The Daily Dot, photo via Twitter]