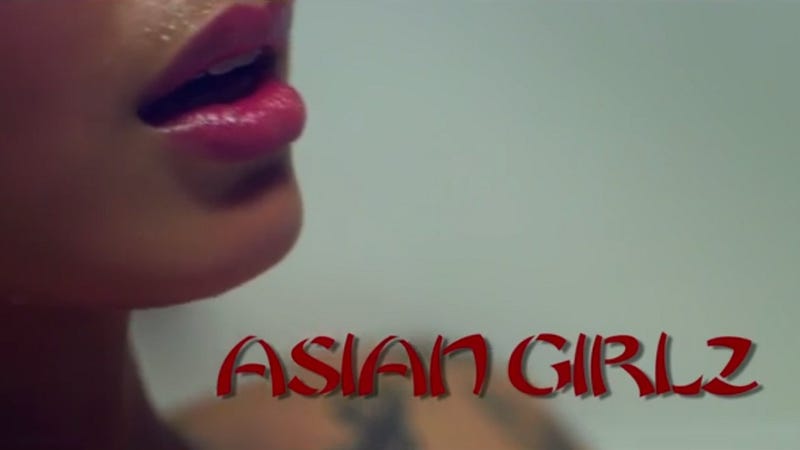 Angry Asian Man called "Asian Girlz" quite possibly "the worst song I've ever heard," so you know it means business.
This "racist, yellow fever bullshit" (in Angry Asian Man's words) was penned by the "Sugar Ray-esque L.A. band" Day Above Ground, and features such sterling pearls of ignorance as "I love your sticky rice / buttfucking all night," "I love your creamy yellow thighs / Ooh your slanted eyes," and "it's the Year of the Dragon / Ninja pussy I'm stabbin'."
Charming, culturally sensitive stuff, right?
Well, a lot of people didn't think so, and they made their displeasure known in the YouTube comments section, forcing the band to pull the vid.
They later re-upped it with a new description insisting that the song "was not written with any malicious, hateful, or hurtful intent."
Unsatisfied, many took their concerns with the video's overt racism to Twitter, where the video's model, Levy Tran, has an account.
After being bombarded with reprovals asking her why she sold out Asian women "for a little bit of money," Tran expressed remorse for her part in the fiasco, tweeting, "I sincerely apologize to all who feels (sic) that I set Asian women back 50 yrs. I know I lost respect from a lot of ppl. It wasn't my intention."
Meanwhile, Day Above Ground also gave apologizing another shot:
This song is us, Day Above Ground, making fun of ourselves (and many, many other guys) obsession with the always lovely, Asian Woman. It pushes this concept to an absurd level, but at the same time is endearing & submissive.. WE ARE NOT RACIST, HAHA! I mean, look at our band, it's multicultural!! The guy in the bow-tie, our cutie bass player, was born in Indonesia, and he steals the show!! Please don't take this tongue-in-cheek tribute to some of the most gorgeous women on the planet too seriously!! You'll ruin the fun of it all!! Thanks for watching, sincerely!!
Tl;dr: We have an Asian friend so we're not racist; stop ruining the fun of racism by pointing it out.
Only time will tell if this apology will make their offensive and inexcusable stereotyping all right.