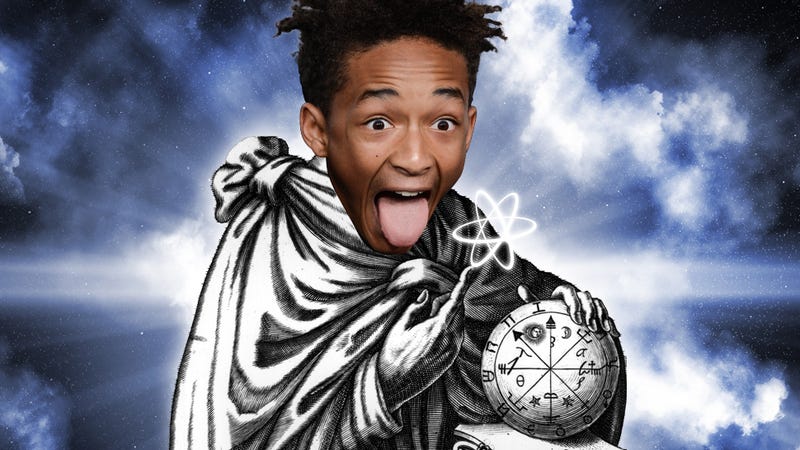 In the year which we now represent as a grayish blue leaf shape meaning combination of hunger and embarrassment (stylized in the Western calendar as "2 0 0 6"), a tool was bestowed upon the people of Earth that would allow them to receive the one True and Perfect Holy Book, line by line, one transmission at a time. That tool was called "twɪt-UR." That book was called "The Book of Jaden."
Earlier this year, child-rapper, actor, and dancer Jaden Smith gave a joint interview to New York magazine alongside his father, actor-rapper, producer, and child Will Smith. Many readers were struck by the interview's strong emphasis on patterns, wondrous imagimathematics, and—y'know what?—just concepts in general. Some were bemused by what they perceived as the confusing, mystical concepts of Scientology regurgitated by father and son and called "physics." But few realized they could achieve such enlightenment on a daily basis, if they only knew where to look.
They must look at the social media manifestation of Jaden Smith.
Here is a small sampling of the collected wisdoms of Jaden Smith, culled from his Twitter account. Read them, these ten koans, and follow him sideways, into a new dimension of awareness. (For his part, Smith follows only one person: Bob Marley, who is dead.)
1.
2.
3.
4.
5.
6.
7.
8.
9.
10.
How long will it be before we lose access to Jaden Smith's teachings? Recently, after perceiving that base media gods had begun to take notice of his wisdom, the young Oracle threatened to close the Book of Jaden forever. Open your consciousness to his righteous truth while you still can.
[Image via Jim Cooke]