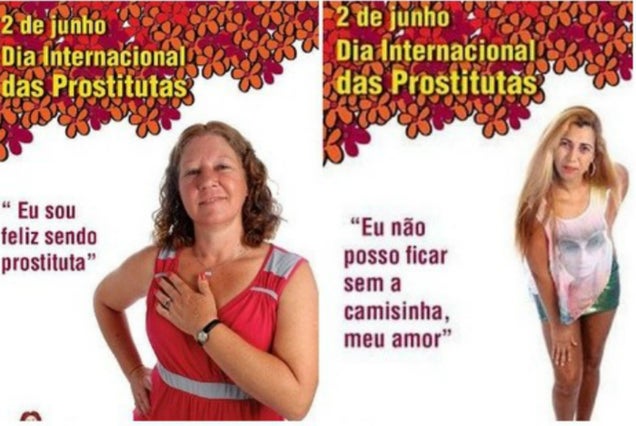 S
Like most things in Brazil, prostitution is legal.
Sex work even has its own holiday — June 2nd was International Day of the Prostitute. To raise awareness about safe prostitution and to work against the stigma that surrounds the profession, Brazil recently launched an online campaign called "I'm happy being a prostitute." And then they quickly canceled it.
The ads, which carried slogans promoting safe sex like "I cannot be seen without a condom, my love," became a lightning-rod of controversy in the progressive, but still deeply religious country. (Perhaps Mr. Balls could have advocated on their behalf?)
Health Minister Alexandre Padilha dropped the campaign last Tuesday after public pressure, telling reporters that even though the ads were done to promote safe sex, it wasn't necessarily in the right taste for the country.
"The role of the ministry is to have specific content to encourage prevention among sex workers, who are a very vulnerable group," Padilha said.
With the 2014 World Cup and the 2016 Olympics both heading to the country, Brazil is expecting to see a massive spike in its prostitution industry. Sex workers have already begun taking free English lessons (because Brazil is awesome) so they can cater to the international clientele that will shortly be coming in their fair nation.