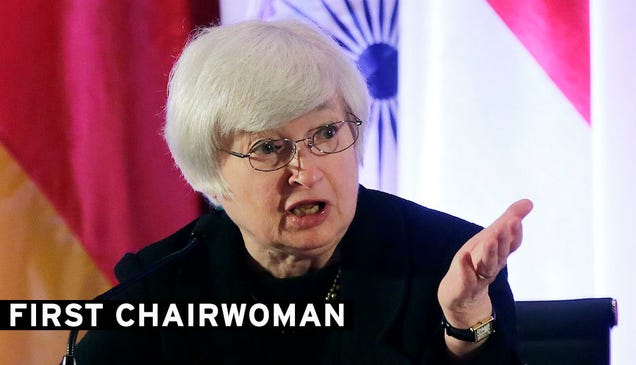 President Obama will nominate Janet L. Yellen as chairwoman of the Federal Reserve today, according to White House officials. If her nomination is confirmed by the Senate, Yellen would be the first woman to lead the world's most powerful central bank.
Yellen, a former economist at UC Berkeley and the current vice chairwoman of the Fed, would replace Ben Bernanke, whose second four-year term as chairman will end on January 31.
The Senate will likely confirm Yellen – in 2010, she won bipartisan support for her nomination as vice chair of the Fed – though several Republicans, including Tennessee Republican Bob Corker, have expressed some reservation. "I voted against Vice Chairman Yellen's original nomination to the Fed in 2010 because of her dovish views on monetary policy," Sen. Corker said in a statement. "We will closely examine her record since that time, but I am not aware of anything that demonstrates her views have changed." Still, any Republican objections seem unlikely to disrupt Yellen's confirmation.
Yellen's nomination isn't a surprise; she'd been the leading candidate since Lawrence Summers withdrew from consideration in September.
Before she was appointed as vice chair of the Fed in 2010, Yellen was president and CEO of the Reserve Bank of San Francisco from 2004 to 2010. She also served as head of the Council of Economic Advisors from 1997 to 1999 and worked as a professor of economics at the University of California, Berkeley since 1980. Her husband is Nobel Prize-winning economist George Akerlof, with whom she's co-written several papers. Their son is also a professor of economics.
Yellen will become just the second woman to lead a developed country's central bank; in June, Elvira Nabiullina was appointed head of Russia's central bank.
[Image via AP]