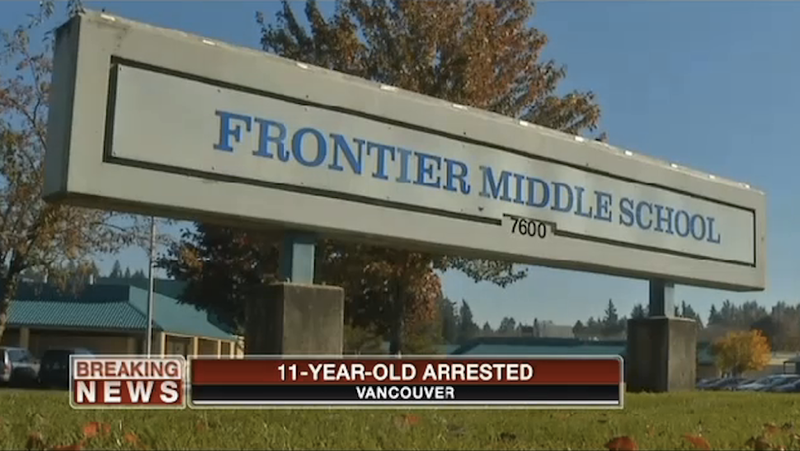 An 11-year-old boy in Washington state was arrested Wednesday after he brought 400 rounds of ammunition, multiple knives, and a handgun to school. According to police, he brought the gun intending to shoot a student who he "thought was bullying his friend."
The student was arrested and is being held on charges of attempted assault, unlawful possession of a firearm and possession of a weapon at school.
In a declaration of probable cause filed in court Thursday, police said that the boy's mother called on Wednesday worried that her son had taken knives to school. School resource officers located the boy, patted him down, and found an unloaded .22 caliber handgun in one pocket. He had two loaded .22 caliber magazines in the other pocket. More ammunition and the kitchen knives were found in his backpack.
According to the court documents, officers said that the boy had "claimed in the presence of school officials that a 'voice in his head' was telling him to kill" another student after he had called the boy's friend "gay."
The documents also reveal his specific plan:
In an interview with police, the boy "stated a voice told him killing [another student] was a good idea; however he planned to just shoot [the student] in the arm and then shoot himself in the head."
The Clark County Juvenile Court ordered a mental competency hearing and the boy's case will be reviewed again Friday.
This incident is just the latest—and hopefully the last—in a heartbreaking week of school-related violence: Monday's shooting in Nevada, Tuesday's shooting in California, Tuesday's murder in Massachusetts, and Wednesday's close-call in California. The more normal we let it become, the more fucked up it gets.
[Screenshot via KPTV]