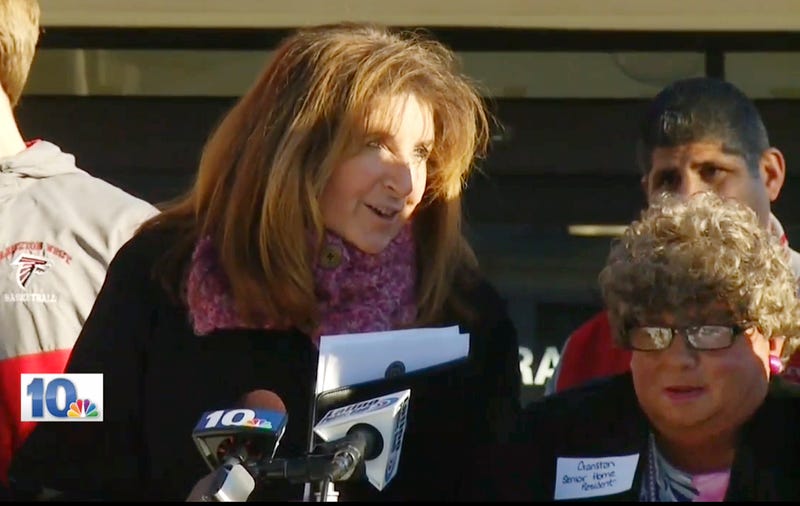 A recent scandal out of Cranston, Rhode Island, is rocking the small New England city to its core. Sue Stenhouse, executive director of Cranston's Senior Enrichment Center, resigned last week after asking a male bus driver to don a wig, earrings, and a really quite flattering shade of pink lipstick so that he would appear to be an elderly woman when he stood behind Stenhouse at a press conference.
That's right: the charming old lady with a "Cranston Senior Home Resident" sticker on her lapel you see above is not in fact Jonah Hill auditioning for the title role in a Mrs. Doubtfire reboot, but a senior center employee named David Roberts. Before we go any further, let's explore the depths of Roberts' visible discomfort to be playing the role.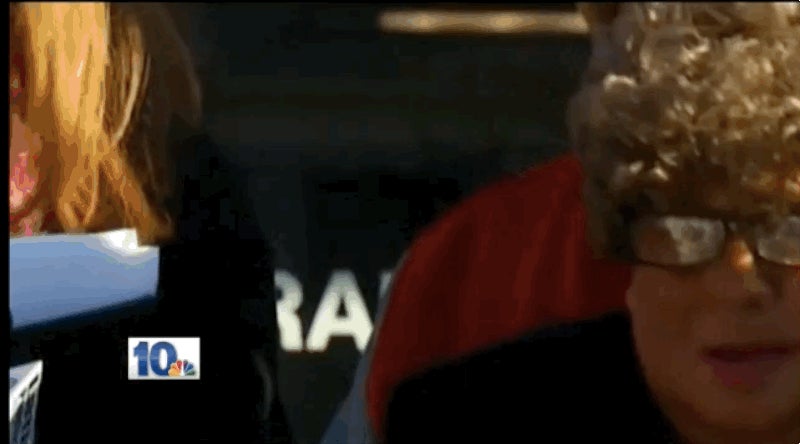 According to local NBC affiliate WJAR, which broke the story, Stenhouse held the press conference last week to announce a new program that would have students shoveling snow for the elderly. WJAR's sources said the plot was meant to convey a positive image to the media.
Cranston director of administration Rob Coupe told the Associated Press that Stenhouse resigned last week, but did not offer further comment, saying it was a personnel matter. "I've been in a meeting all night being a great public servant for the city of Warwick," Stenhouse said when confronted by a WJAR reporter at her home. "And now I get this bullshit."
Watch WJAR's full coverage:
Roberts, who drives a van that transports senior citizens, picked up the wig from a local beauty salon, according to the salon's owner. "He says to me, 'Elaine, do you have a wig that I could borrow? I have to get dressed as a senior,'" Elaine Mancuso told the AP. "I said, 'Oh, my God. He wanted it for that.' I probably would have given him a better wig if I had known."

---
Image: AP via WJAR. Contact the author at andy@gawker.com.