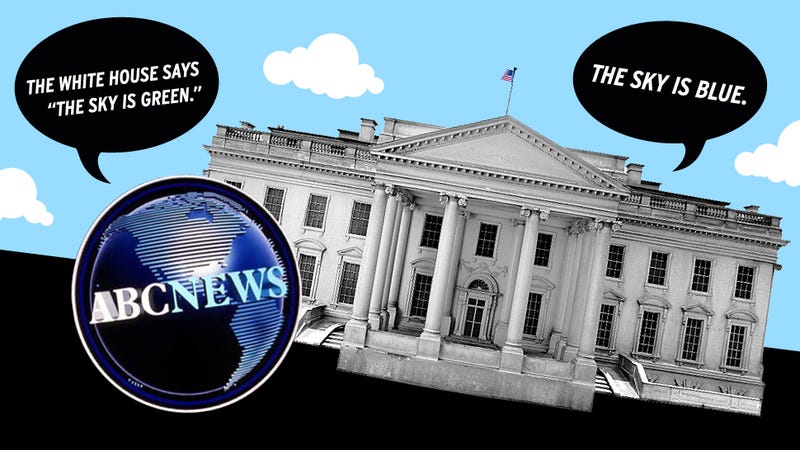 Remember last week, when ABC News caught the Obama administration red-handed, manipulating its talking points about last year's fatal attack in Benghazi? In that account of the editing chain, ABC's Jonathan Karl reported that one email had specifically asked for the State Department to be protected. According to the orthodox theory of Benghazi-as-Watergate, this demonstrated that the White House was more interested in spinning things to protect the Obama 2012/Hillary 2016 presidential campaigns than it was in presenting the truth.
Here's the ABC account of the email:
In an email dated 9/14/12 at 9:34 p.m. —three days after the attack and two days before Ambassador Rice appeared on the Sunday shows—Deputy National Security Advisor Ben Rhodes wrote an email saying the State Department's concerns needed to be addressed.

"We must make sure that the talking points reflect all agency equities, including those of the State Department, and we don't want to undermine the FBI investigation. We thus will work through the talking points tomorrow morning at the Deputies Committee meeting."
But today, CNN's Jake Tapper obtained and published the original email:
From: Rhodes, Benjamin J.

Sent: Friday, September 14, 2012 9:34 PM

Subject: Re: Revised HPSCI Talking Points for Review

Sorry to be late to this discussion. We need to resolve this in a way that respects all of the relevant equities, particularly the investigation.

There is a ton of wrong information getting out into the public domain from Congress and people who are not particularly informed. Insofar as we have firmed up assessments that don't compromise intel or the investigation, we need to have the capability to correct the record, as there are significant policy and messaging ramifications that would flow from a hardened mis-impression.

We can take this up tomorrow morning at deputies.
The words "including those of the State Department," which established the motive behind the revisions—and which ABC put in quotation marks, to indicate that they were the actual text of the email—were not in the email at all. If Tapper's email is legitimate, ABC took a fabricated quote from its source and published it as real.
(So, obviously, the next question is: Who is feeding Jake Tapper forged emails?)
Oh, and now ABC is telling the Washington Post's Erik Wemple that there's no contradiction between Karl's made-up version of the email and the actual text:
Well, that sounds fine, as long as you don't care about the conventional meanings of "summary" (which doesn't usually mean "extra stuff added") or "quoted" (which usually means "quoted"). Not that ABC originally identified the passage as a summary. Who edited the ABC spokesperson's talking points?
[Image by Jim Cooke]