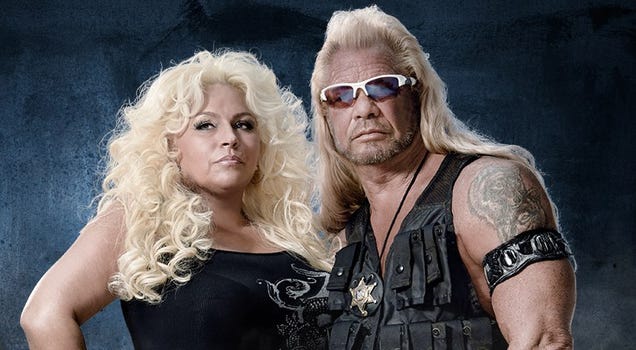 In a gross play for publicity, Duane Chapman, better known as Dog the Bounty Hunter, announced he would hunt down a mixed martial arts fighter accused of beating his girlfriend this weekend. In other news, a Dog the Bounty Hunter show is apparently still on TV.
Las Vegas police are searching for MMA fighter Jon "War Machine" Koppenhaver after he allegedly beat his ex-girlfriend, porn performer Christy Mack, on Aug. 8. Mack was severely hurt, with a broken jaw, nose, and eye socket, as well as missing teeth. She shared photos and her side of the story on Twitter Monday.
Koppenhaver reportedly posted and then deleted a tweet implying that he attacked Mack for cheating on him (as if that makes it OK). Mack denies those allegations.
Dog, who has nothing to do with either party, announced on Twitter that he would be "coming after" War Machine, who is wanted by Las Vegas police for felony assault with a deadly weapon and felony domestic violence, unless he surrendered to police within 24 hours.
War Machine has not posted anything else on Twitter since he went on the lam.
Other things to keep in mind: A human being was seriously injured in this case, law enforcement officers are already involved, and Dog the Bounty Hunter is a reality TV personality with a show on Country Music Television.
[H/T Complex, Photo: Dog the Bounty Hunter]