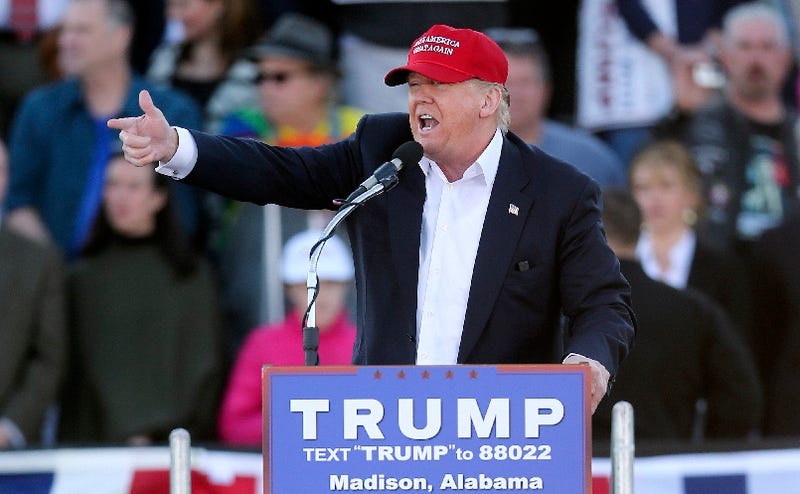 At a rally Saturday, Donald Trump took a moment to reflect on the California class-action lawsuit he is facing over the now-defunct Trump University, and to specifically comment on the ethnicity of the judge overseeing the case: "I believe he happens to be Spanish, which is fine. He's Hispanic—which is fine."
According to the Associated Press, Trump claimed that the reason Gonzalo Curiel, a judge in the Southern District of California, hadn't thrown out the case yet was, "because it was me and because there's a hostility toward me by the judge—tremendous hostility—beyond belief." Not that he's worried about it: "It's a small deal, very small."
In an appearance on "Fox News Sunday," Trump clarified what he meant: "I think it has to do perhaps with the fact that I'm very, very strong on the border, very, very strong at the border, and he has been extremely hostile to me." From Yahoo Politics:
Curiel, who was born in East Chicago, Ind., and graduated from Indiana University and Indiana University Law School, was nominated to the federal bench by President Obama in 2011 — and approved by the Senate the next year by voice vote without opposition. His confirmation followed a lengthy legal career that included 13 years as a federal prosecutor in San Diego, starting under President George H.W. Bush, and ultimately rising to become chief of the office's Narcotics Enforcement Division in charge of prosecuting narcotics cases involving Mexican drug smugglers. (At one point, Curiel's efforts to extradite a top smuggler from Mexico led to a cartel threat to assassinate him.)

Assigned two fraud lawsuits filed by former students of Trump University accusing the school of deceptive trade practices, Curiel has rebuffed multiple motions by Trump's lawyers to dismiss the case.
On "Meet the Press," Trump said, "I think the judge has been extremely unfair. This is a case that many, many, many people said should have been thrown out on summary judgment. We have 98 percent approval. We have an A from the Better Business Bureau." In fact, neither Trump University nor the Trump Entrepreneur Initiative—which is what Trump University changed its name to—is accredited by the Better Business Bureau.

Trump has also accused New York Attorney General Eric Schneiderman, whose office filed a separate, $40 million civil complaint against Trump University in 2013, of being politically motivated. In a statement, the attorney general said, "I will not engage in a debate about ongoing litigation."
"But there is no place in this process for racial demagoguery directed at respected members of the judiciary," the statement continued.
Trump described the cases as the work of "a sleazebag law firm," the AP reports. "I could've settled this suit numerous times. Could settle it now. But I don't like settling suits," he claimed. That may or may not be so, but he certainly has settled a lot of suits.
---