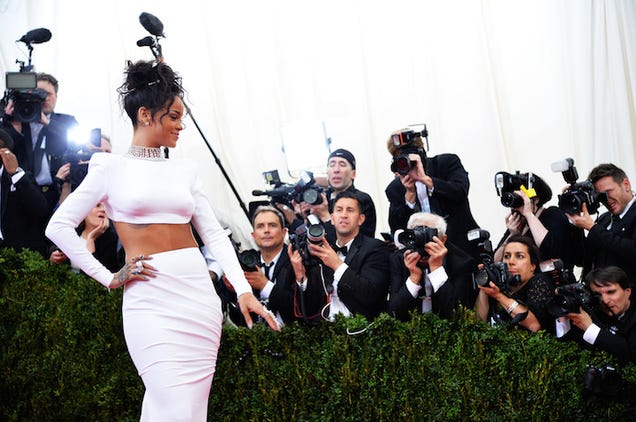 There is always a breakout star of each World Cup, and this year the candidates are numerous. There's Jermaine Jones, who scored America's most stunning goal. There's Luis Suarez, who has been banned for biting an Italian player. There's this guy's dick. And then there's Rihanna, who has inflamed American Twitter by rooting for everyone else.
Rihanna, one of social media's true delights, has been livetweeting during a number of World Cup games this year. (It's okay if she skips work, don't worry.) Her tweets have revealed that she's "supporting" (soccer lingo) other teams besides the United States.
Here was her tweet immediately after Portugal scored a backbreaking goal to tie the U.S. on Sunday.
She also tweeted in favor of Germany after they went up 1-0 on the U.S. earlier today.
The responses to such tweets from people who perhaps don't realize that Rihanna is from Barbados more or less look like this.
There are three teams in the United States' group, and Rihanna has tweeted her support for every single one except America.
But it looks like her true favorite team is Germany.
Here's the thing: Rihanna is completely right about Germany. They might play the most creative and aesthetically pleasing soccer of any team in the world, Brazil aside. Anyone watching the World Cup just for fun should want to see Germany advance as far as possible. Rihanna knows what the fuck is up.
Also, she's watching the World Cup while smoking joints.
Just good decisions all-around from Rihanna, honestly.
[image via Getty]