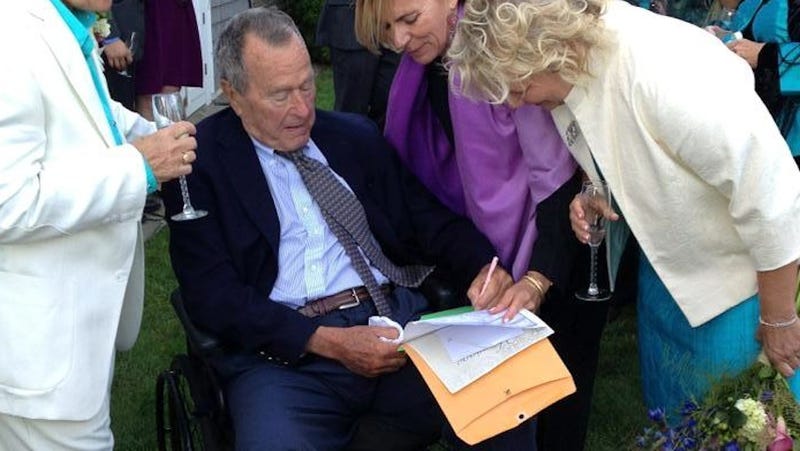 Former President George H.W. Bush served as an official witness at a same-sex wedding in Kennebunkport, Maine this weekend. The former president's spokesman, Jim McGrath, confirmed Bush and his wife Barbara attended the nuptials of Bonnie Clement and Helen Thorgalsen: "They were private citizens attending a private ceremony for two friends."
Thorgalsen uploaded a picture to her Facebook page Sept. 22 with the caption "Getting our marriage license witnessed!" In the picture, Bush, wearing mismatched socks, sits in a wheelchair signing a paper on top of an envelope.
Emailing from their honeymoon in London, Clement told the Washington Post:
"This is such a wonderful time for change in our legal system," she added. "Who would be best to help us acknowledge the importance of our wedding as our friends and as the former leader of the free world. When they agreed to do so we just felt that it was the next acknowledgment of being 'real and normal.'" Clement, 60, said she and Thorgalsen, 55, have been together for 12 years, during which she helped raise hew new wife's now-adult daughters.
A spokesman for George W. Bush, who once called for a ban on same-sex marriages, would not comment on his father's role in the wedding.
[Image via Helen Thorgalsen / Facebook]