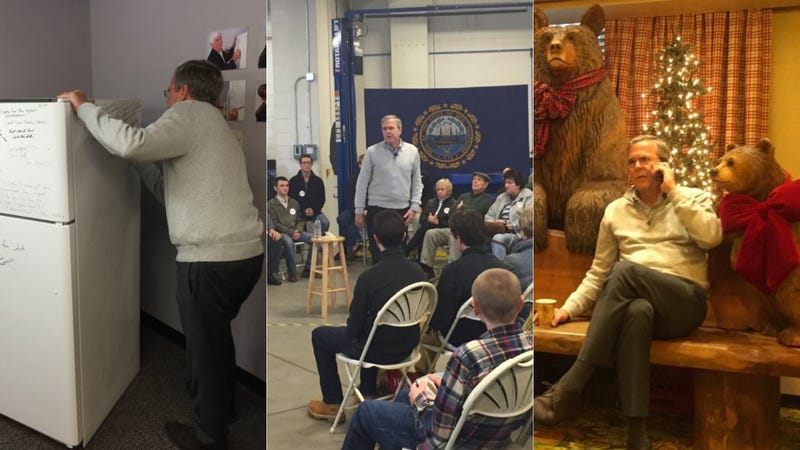 Jeb Bush has been making the rounds in New Hampshire this week, which is perfectly normal behavior for a man running for president. But the many tweets coming from Jeb's camp this week have included more than just photos of Jeb's stilted handshakes—they've also raised questions. Specifically: Why has Jeb Bush been wearing the exact same sweater for the past four days?
Let's take a look at the facts.
---
December 19
Jeb held a total of four town halls on his journey through New Hampshire.
And according to this video, the sweater appeared at every single one.
December 20
On Sunday, Jeb took some time to go on CBS's Face the Nation wearing—what else—his beloved greyish sweater.
December 21
The next day, at New Hampshire's very merrily decorated Legion Post 72, Jeb Bush shows up decorated in his favorite gray sweater.
December 22
At an event in Berlin, New Hampshire, Jeb again dons his lucky (?) sweater.

Even when relaxing with friends at the North Conway Grand Hotel, Bush and his sweater will not be apart.
December 23
This video could have been shot yesterday!, the sweater skeptic might opine. But the keen observer of Bush's mysteriously stagnant outerwear will notice that the shirt collar carries a markedly different pattern than that which peeked out the day before.
Bush is, once again, wearing the same tan-grey sweater.
What's more, this definitely isn't a new sweater bought specifically for this trip. Jeb's been spotted wearing it before. Such as at an event in Newton on December 1:
---
With all this in mind, there exist several possible lines of query. Is Jeb Bush simply out of clean clothes? Dry cleaning is expensive, and as we know, the Bush campaign is staying as lean as it can these days.
Or maybe Jeb just planned poorly for the weather, and only brought one sweater to New Hampshire. That raises a more alarming question: Will Jeb Bush be a poor (weather) planner as president?
Or perhaps he has a closet filled with 50 different copies of the exact same sweater?
Also: Is the sweater more grey or light tan?
And what does the sweater now smell like after so much wear?
If you have any information at all regarding Jeb's sweater and its current or past condition, please send us an email here. We just want answers.
Update 4:29 p.m.
Jeb's camp had this to say regarding the sweater situation.
Update 6:07 p.m.
Jeb Bush sent us the following email denying the sweater allegations: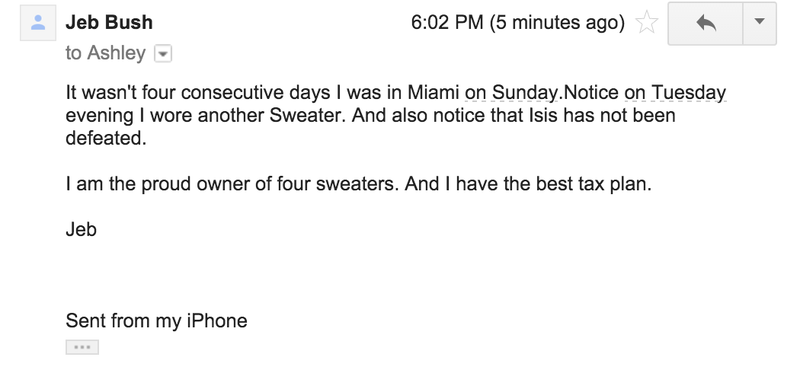 We've asked Jeb for clarification regarding the connection between ISIS and his sweater, and will update as soon as we hear back.
---
Contact the author at ashley@gawker.com.