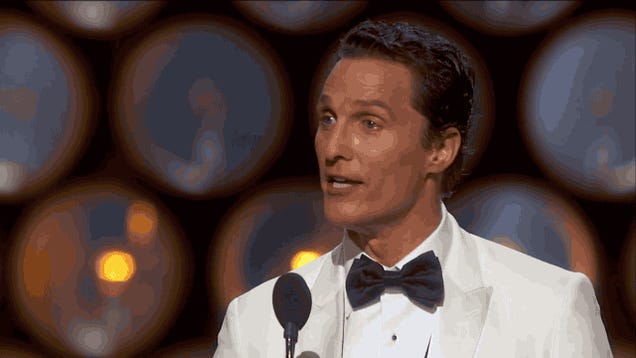 The Oscars were last night, and like every other sane person on the planet you were busy watching True Detective. Luckily for you your non-sane correspondents at Gawker were watching the Oscars. This is what you missed.
The Red Carpet: Boring, and then Jennifer Lawrence fell, which is, at this point, boring. Boring!
Ellen's monologue was boring until the last 30 seconds, when she crammed in the Jonah Hill dick joke and the 12 Years a Slave "racist" joke.
Ukrainians were thrilled and enervated by this show of support from Jared Leto. Take that, Vladimir!
Meryl Streep shimmied with Pharrell.

Vertigo legend Kim Novak needed aggressive back rubs to stay alive and upright.
Darlene Love stole the mic and everyone knew better than to play her off.
Bradley Cooper took the most-RTed selfie of all time... on an iPhone, not a Samsung.
(This is the good stuff) Lupita gave a gracious speech...
...and despite a decades-long feud, Bill Murray paid a small, touching tribute to the late Harold Ramis.
Meanwhile Matthew McConaughey acted totally normal during his acceptance speech, like a normal guy who is not on drugs would act.
And Steve McQueen danced.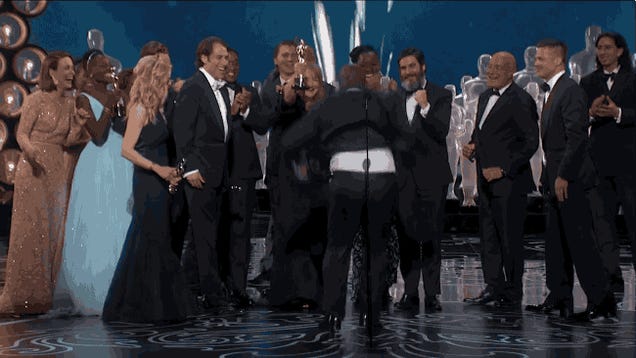 And then it ended. Ideally you used the five hours you didn't spend watching this to do something productive with your life.