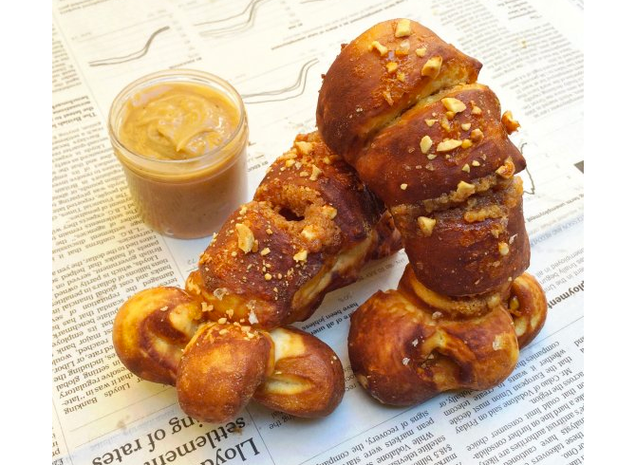 Dominique Ansel, New York City's famous Cronut inventor, has a new creation that's causing many to ask: is this a dick or what?
According to GrubStreet, the peanut butter-stuffed pretzel is purportedly "shaped like a lobster tail" and goes on sale today at Dominique Ansel's Soho bakery. The pretzel was unveiled on an episode of Good Morning America:
Good morning, indeed!
The Daily Beast's Tim Teeman called the pastry "extremely phallic," and reports that, when asked, many of his coworkers agreed with his assessment:
"It's a penis." "That is totally a penis." "Eww, yes, penis." "Is he serious? That's a penis." The only dissenting colleague said, "It reminds me of the head of a pharaoh."
The Huffington Post put it plainly: "Dominique Ansel, the face behind the cronut empire, has come up with a new stuffed soft pretzel that looks exactly like a penis." E! Online even got in on the speculation, noting, "It also looks kind of like a penis with three testicles."
So what do you think—is this a dick, or what?
(It's a dick.)
Previously in dick mysteries:
[image via Twitter]