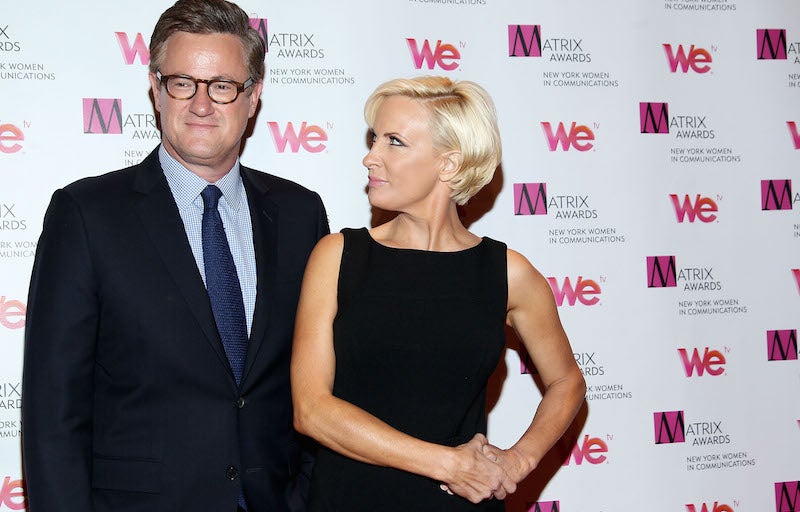 Joe Scarborough, Mika Brzezinski, and Donald Trump either hung out and chatted like old chums in Trump's New Hampshire hotel room last night or maintained a cool professional distance, according to conflicting reports from CNN and Scarborough himself.
This afternoon, CNN's Tom Kludt and Dylan Byers published a brief article about a remark Trump made to the Morning Joe co-hosts on-air. "You guys have been supporters," Trump said during an interview this morning about his big primary win in the Granite State. "And I really appreciate it. And not necessarily supporters, but at least believers. You said there's some potential there."
Noting the "unique relationship" Trump enjoys with the MSNBC show and its hosts—Scarborough has been asked recently about serving as the candidate's running mate—CNN reported that the pair visited Trump in his room yesterday evening "while the New Hampshire primary results were rolling in," citing two anonymous sources.
This does not exactly reflect well on Scarborough and Brzezinski's journalistic objectivity, especially if the visit was congratulatory in nature. And soon after the post went up, Scarborough tweeted at Byers calling him a troll and a liar.
And Byers responded by asking the former congressman to go on the record denying that he was present.
So far, Scarborough has not responded.
UPDATE: An MSNBC spokesperson gave the following statement.
CNN's media reporter, Dylan Byers, is implying that Joe Scarborough and Mika Brzezinski watched election returns with Donald Trump last night in New Hampshire. That is not true.

The Morning Joe hosts instead did what anchors are supposed to do — they interviewed the candidate's senior staff to get background information on their strategy in New Hampshire, and on their campaign's plans moving forward in South Carolina. The staff then invited the hosts to get Mr. Trump's reaction to the victory. That discussion lasted less than five minutes. Other networks were allowed interviews as well.

It should be noted that Morning Joe is off to a great start in this election year. In January, the show had 28% more viewers than CNN's morning show last month. And thus far in February, more people are watching Morning Joe than CNN.
---