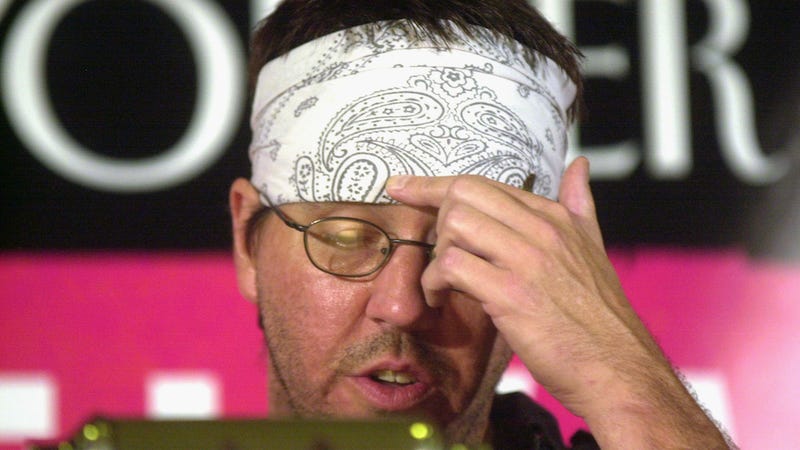 Ever since David Foster Wallace committed suicide in 2008, the late novelist's friends and literary executors have been exploring the intersection of canonization, exploitation, and vengeance. His publishing house chopped and shuffled his unfinished and unfinishable final manuscript into a "posthumous novel." Jonathan Franzen, loser of their head-to-head trial of literary merit in life, set about relitigating it through underminer-y ostensibly memorial essay-writing. Elizabeth Wurtzel used him as a reference point for her crush on David Boies ("David Boies makes David Wallace look like, well, some other lesser David, maybe David Remnick"). He's become the lit-martyr equivalent of Bruce Lee in Game of Death, with everything he ever said or wrote available for potential repackaging as a holy relic. (A phoner I did with him in 1998 has made it into two different volumes.)
So now, inevitably but also amazingly, Back Bay Books has released a new paperback edition of Signifying Rappers: Rap and Race in the Urban Present—the 1990 think-book about hip-hop that a young Wallace co-wrote with his roommate Mark Costello and studiously omitted from his subsequent bibliography. By most accounts, it's over-academicized and embarrassingly honky-tastic, and it went unmentioned on the "Also by David Foster Wallace" pages of his later works. Robert Christgau scoffed at it. Till now, it was only available as an overpriced collectible.
Who cares what Wallace wanted, though? He's dead. And you can have it in your hands tomorrow, via Amazon. Public-service announcement: here's how people really will treat you when you kill yourself, kids.
[Photo via Getty]