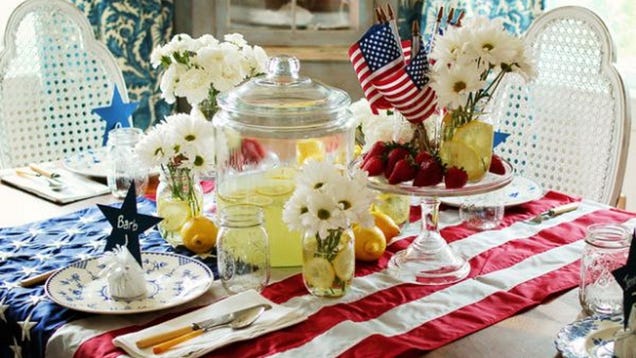 According to reports on multiple conservative websites, a recommendation by Home & Garden Television to use the Star-Spangled Banner as a tablecloth has sparked outrage among viewers, with many taking to the channel's Facebook page to denounce the suggestion as "un-American."
"Drape a large American flag over the table as a bright and festive table runner," HGTV said in a segment called "Classic Fourth of July Table Setting Ideas," according to Fox News Radio. "Use a nylon flag so spills can be easily wiped off and the flag can later be hung with pride on a flag pole."
Among the viewer reactions posted on HGTV's Facebook page:
I am appalled that you would suggest using the flag that my brother was killed defending in Iraq as something to catch spills on a table at a cookout.

What better thing to do over the holidays than desecrate the American flag.
And
No one dies for a table cloth.
A spokesman for the conservative veteran's group American Legion also chimed in, telling Fox the flag was "designed to be flown and respected as the symbol of our country."
"That very same flag is used to cover the caskets of our soldiers, sailors and Marines who have been killed in battle," Joe March continued. "You would not obviously want to take that and use that as a table cloth."
Earlier this afternoon, HGTV removed the table setting article from its website and issued the following apology:
HGTV Fans, regarding the recent article that appeared on our website...This was a regrettable use of our flag and it never should have happened. We sincerely apologize and have removed the post from our website. We want to assure our fans that HGTV is proud of the American flag and everything it symbolizes for our people.
And here's the top viewer comment attached to the apology:
I can accept their apology for this one, but what I can't accept or stomach, are endless endless reruns of Love it Or List It. God I'm sick of that show. What happened to Candice Olsen or Sarah Richardson?
Meanwhile, "liberal media bias combatant" NewsBusters wrapped up its coverage of Flaggate with an irony-free recommendation of its own:
Instead of recommending the use of a flag as a tablecloth, HGTV ought to have directed viewers to one of the many flag-inspired tablecloths that are for sale in many stores and on the internet.
[photo via HGTV]