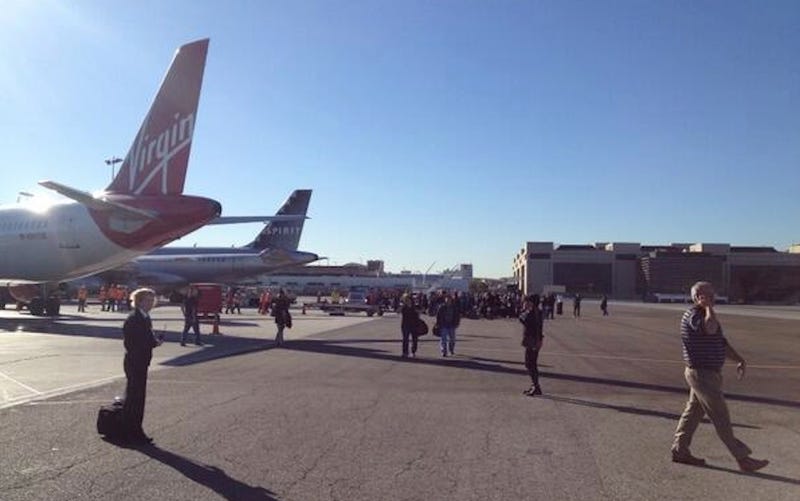 A gunman armed with a high-powered rifle stormed Los Angeles International Airport today, injuring at least 7 people. According to police, the incident is under control, and the suspect is in custody.
Update 7:56 PM: LAX Terminals 1 and 2 have reopened. Terminal 3, where the shooting began, remains closed.
UPDATE 6:38 PM: Paul Ciancia's father reportedly called police in Pennsville, New Jersey, this morning after another of his children got a text message from Paul "in reference to him taking his own life." The Pennsville police chief called the LAPD, which sent officers to Paul's LA apartment (it is unclear whether the police arrived at Paul's place before or after the shooting). Paul's roommates told the officers that they'd seen Paul yesterday and that he was fine.
UPDATE 4:51 PM: The Associated Press is now also reporting that Paul Ciancia, an American from New Jersey, is the suspected shooter. Law enforcement officials say Ciancia was carrying a bag with a hand-written note proclaiming he "wanted to kill TSA and pigs." That seems to go along with statements from one eyewitness, who told reporters the shooter approached him and asked only, "TSA?"
UPDATE 4:13 PM: NBC 4 Washington is reporting that Ciancia is a resident of Los Angeles.
UPDATE 4:08 PM: More from NBC on "Paul Anthony Ciancia": "The gunman, identified by law-enforcement officials as 23-year-old Paul Anthony Ciancia, was shot by law enforcement and taken into custody in critical condition. They believe he had anti-government views based on the material he was carrying, the officials said." Multiple outlets are reporting that one TSA agent has been confirmed dead.
UPDATE 3:57 PM: NBC News says the shooter is a "Paul Anthony Ciancia.":
No other outlets look to be reporting this yet.
UPDATE 3:52 PM: The Los Angeles Times is reporting that the suspected shooter was a ticketed passenger, not an off-duty TSA agent.
UPDATE 3:44 PM: Despite earlier reports, only one person has been confirmed dead, according to KTLA. It is unclear if that person is the shooter or a victim.
UPDATE 3:02 PM: During a press conference, LAX Police Chief Patrick Gannon said the suspect pulled out an assault rifle in Terminal 3 and began firing, eventually shooting his way through a security checkpoint. The gunman was then detained by law enforcement officials and is now in custody. The LAFD chief said seven victims were treated at the airport, and six others were transported to local hospitals. No information about the victims' conditions or identities was released.
UPDATE 2:36 PM: According to NBC News, all of the victims were TSA agents.
UPDATE: 2:18 PM: NBC is reporting that the gunman was killed by law enforcement officers. According to the Los Angeles Times, one TSA agent was killed and three or four other TSA agents were injured in the shooting.
UPDATE: 2:07 PM: NBC's Pete Williams is reporting that one TSA agent was killed. Two others were wounded.
UPDATE: 2:01 PM: Law enforcement sources told CBS News that the shooter was an off-duty TSA agent. (UPDATE: CBS News is now reporting the shooter is NOT a current or former TSA agent).
Meanwhile, beloved actor James Franco is stuck on the LAX tarmac.
UPDATE 1:36 PM: According to CNN, a gunman entered Terminal 3 and shot a TSA agent at a security checkpoint. The suspect was then shot and wounded by responding officers, though it's not clear if he made it past the security checkpoint. The other injuries reportedly occurred as passengers and airport employees fled the scene.
And CBS LA is reporting that a large box of ammo was found on or near the suspect.
This is reportedly a photo of the rifle used by the shooter.
UPDATE 1:30 PM: CBS LA is reporting that two suspects are in custody.
UPDATE 1:21 PM: The Secret Service has evacuated the area in front of the White House as a precaution.
UPDATE: 1:09 PM: The shooting took place at a TSA checkpoint, where at least one TSA agent was shot, according to NBC News.
And NBC LA is now reporting that federal officials said the situation has ended.
UPDATE 1:00 PM: According to CNN, there were at least three injuries. NBC is reporting that two people were shot.
[Image via Twitter]