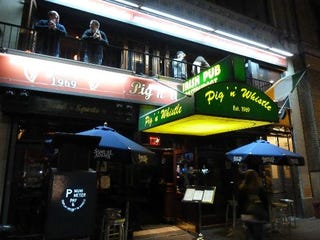 Three assholes decided to have their drinks on the house after work one day, downing about $96 worth of Blue Moon and Fireball and ditching the bill, leaving waitress Suzanne Parratt responsible for payment, according to Pig 'n' Whistle company policy. Parratt refused to pay, and was subsequently terminated.
Funny thing is, while many things that happen in the restaurant industry are borderline illegal but accepted policy – not actually getting paid an hourly wage was always my personal favorite, along with on-duty cocaine use – it is illegal to hold an employee accountable for losses suffered by your business, and it is additionally illegal to fire an employee for refusing to pay for some douchebag's ditched tab.
Parratt is going through appropriate channels, like the Division of Labor Standards, to get some reconciliation for her wrongful termination. She's fighting the good fight. Anyone who has worked in service in this fair city knows that you put up with quite a lot of borderline legal policies implemented by greedy, greedy restauranteurs.
The line needs to be drawn somewhere, and its occasions like this where the greater community of service workers can learn a lot from Parratt's ordeal and will be better equipped to protect themselves when they're eventually screwed by an employer. Fight on, Suzanne.
image via tripadvisor