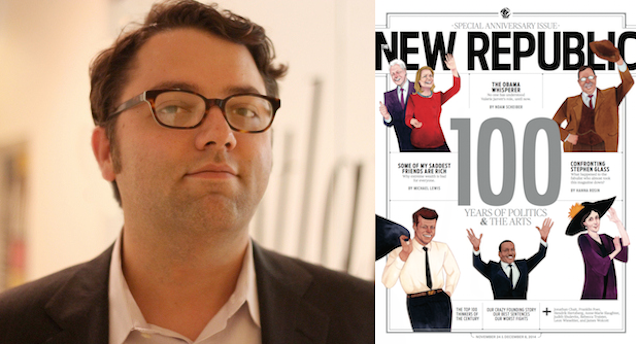 Something is afoot at The New Republic. Though no official announcements have been made, we're told by staffers that the office is buzzing with rumors that Gabriel Snyder, a digital advisor at Bloomberg Media and former editor of The Atlantic Wire and Gawker, has been hired as its new editor-in-chief—replacing Franklin Foer in the magazine's top spot. (Update: Foer has resigned.)
TNR's publisher and executive chairman, Chris Hughes, recently began revamping the magazine's editorial operations with the appointment of former Yahoo! general manager Guy Vidra as the publication's CEO in September. (Until Vidra's hiring, Hughes served as editor-in-chief, a CEO-like position where he oversaw Foer, whose title was simply "editor.") "Today, I don't call it a magazine at all," the Facebook multi-millionare told The New York Times in November. "I think we're a digital media company."
Foer, we hear, nearly left TNR in the spring, and has engaged in talks to take over Politico magazine.
Update (3:01 p.m.): Foer has resigned from The New Republic:
Update (3:05): According to Politico, literary editor Leon Wieseltier is leaving TNR as well.
If you know anything more, please drop us a line.