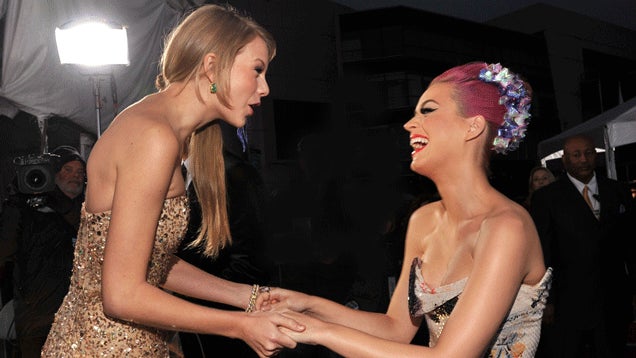 Like a cranberry scone baked with nails and broken glass and wood splinters that Taylor Swift has just handed to you, Rolling Stone's new profile of Taylor Swift was chock full of surprises:
That pop star is almost certainly Katy Perry.
Here's what Taylor Swift said when questioned about the mysterious subject of her new track "Bad Blood," which Rolling Stone describes as the "angriest" on her new album:
"For years, I was never sure if we were friends or not," she says. "She would come up to me at awards shows and say something and walk away, and I would think, 'Are we friends, or did she just give me the harshest insult of my life?'" Then last year, the other star crossed a line. "She did something so horrible," Swift says. "I was like, 'Oh, we're just straight-up enemies.' And it wasn't even about a guy! It had to do with business. She basically tried to sabotage an entire arena tour. She tried to hire a bunch of people out from under me. And I'm surprisingly non-confrontational – you would not believe how much I hate conflict. So now I have to avoid her. It's awkward, and I don't like it."

(Pressed, Swift admits there might have been a personal element to the conflict. "But I don't think there would be any personal problem if she weren't competitive," she says.)
Here's what Katy Perry tweeted the day after Rolling Stone's profile appeared online.
Here's a page featuring profiles, videos, and self-penned essays about the women of NASA, for you to peruse on your own time.
Swift and Perry have yet to explicitly confirm a feud (and are unlikely to ever, barring a reconciliation-themed track a few albums down the line). But the reasons behind their fight are well known to the gossip scholarship community.
Why and how did the pair become enemies?
Like countless instances of "sabotage" across the ages, the incident to which Swift makes reference in the Rolling Stone interview likely revolves around back-up dancers. Here's what we can say for certain:
Following their stint performing on Katy Perry's California Dreams world tour in 2011, three of Perry's dancers (Lockhart Brownlie, Scott Myrick, and Leah Adler)—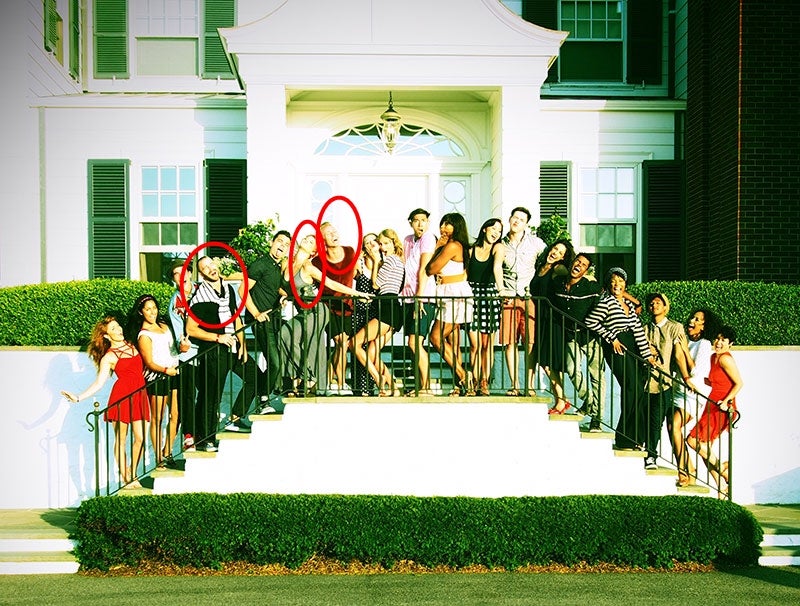 —auditioned for and received slots on Taylor Swift's upcoming world tour in support of her album Red. According to a surprisingly dishy interview Brownlie gave to the the Examiner newspaper in his native of Australia, while dancers were mid-tour with Swift, Perry's camp reached out to see if they would be interested in accompanying Perry on a second world tour (for her then-upcoming album Prism). The catch: the gig would necessitate their leaving Swift's tour before its completion. All three agreed to leave early, in order to take the job with Perry.
Brownlie's version of the story suggests that the dancers left, at least in part, because they found touring with Perry a bit more fun:
"Obviously we were with Katy for 2 1/2 years, she's like family to us, so we were, like, 'absolutely'," Brownlie said.

"We weren't really dancing in Taylor's tour anyway so I had got a little bored and I really wanted to do a promo tour."

Working with two different artist was interesting for Brownlie.

"The experiences were completely different," he said.

"Taylor is very untouchable.

"When we did see her, we had so much fun with her, but she's a lot more protected than Katy.

"Katy's 28 now and can do her own thing.

"Her team are so lovely, so we have such a good connection. And this time around she is a lot more in control."
Bronlie, Myrick, and Adler accompanied to Swift to her Rhode Island home for a very photogenic 4th of July celebration.
Approximately two weeks later, Swift fans took note that the singer had unfollowed the trio on Twitter. By the end of the month, they were off Taylor's tour.
But of course the most fearsome class of rivalries are those that start as friendships. Here's a timeline of Taylor Swift and Katy Perry's relationship, as seen in public on Twitter.
Part I: Let me tell you something about Janis Ian. We were best friends in middle school.
May 4, 2009 - Katy Perry, then 24, apparently initiates public interaction with Taylor Swift, then 19, telling Swift "Ur an angel." For context: It has been just under a year since the release of Perry's runaway hit "I Kissed a Girl." It has been just under a month since the release of Taylor Swift's runaway hit "You Belong with Me."
May 19, 2009: Taylor Swift mentions listening to a Katy Perry song, but does not tag Perry in the tweet. Does not receive response from Perry. Remains angel.
July 5, 2009: Swift watches Perry's "Waking Up in Vegas" music video. Muses about hanging a Katy Perry poster on her wall. Professes love for Perry, but does not tag her in tweet.
July 6, 2009: The next day, Perry responds to Swift's tweet, declaring Swift "sweet as pie" and proposes that the two write a song together.
July 22, 2009: Swift tweets that Perry's most recent tweet made her burst out laughing. Classic. Does not receive response.
August 28, 2009: Swift tweets that Perry's most recent tweet is one of the funniest things she has ever read. Classic. Does not receive response.
October 25, 2009: Swift wishes Perry a happy birthday. Declares her "pretty."
November 2009: Taylor Swift begins dating singer-songwriter John Mayer.
December 13, 2009 Perry wishes Swift a happy birthday. Declares her "beautiful."
January 15, 2010 These girls are annoying.
February 2010: Taylor Swift ceases dating John Mayer.
April 15, 2010: Perry makes a guest appearance on Taylor Swift's Fearless tour. The two perform Perry's single "Hot n Cold" at the Staples Center in Los Angeles.
Part II: So then in eighth grade, I started going out with my first boyfriend Kyle who was totally gorgeous but then he moved to Indiana, and Janis was like, weirdly jealous of him. Like, if I would blow her off to hang out with Kyle, she'd be like, "Why didn't you call me back?" And I'd be like, "Why are you so obsessed with me?"
November 15, 2011: After about a year and a half of sporadic Twitter compliment exchanges, Swift tells Perry "I seriously love you," then does not talk to her on Twitter for over a year.
November 20, 2011: Swift and Perry embrace at the American Music Awards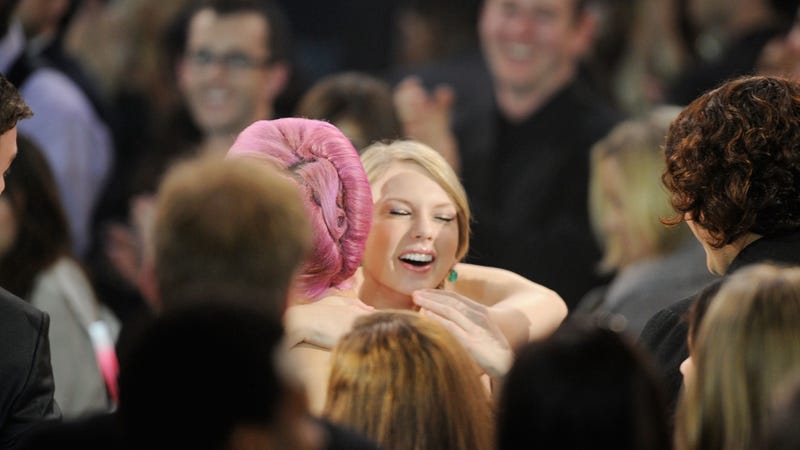 November 29, 2011: Perry posts a photo of herself and her cat on Twitter. She follows-up with a tweet directed at Swift and Swift's cat, Meredith, then does not talk to Swift on Twitter for over a year.
August 2012: Katy Perry begins dating singer-songwriter John Mayer.
Part III: And now I guess she's on crack.
February 10, 2013: Swift and Perry do not embrace at the Grammys.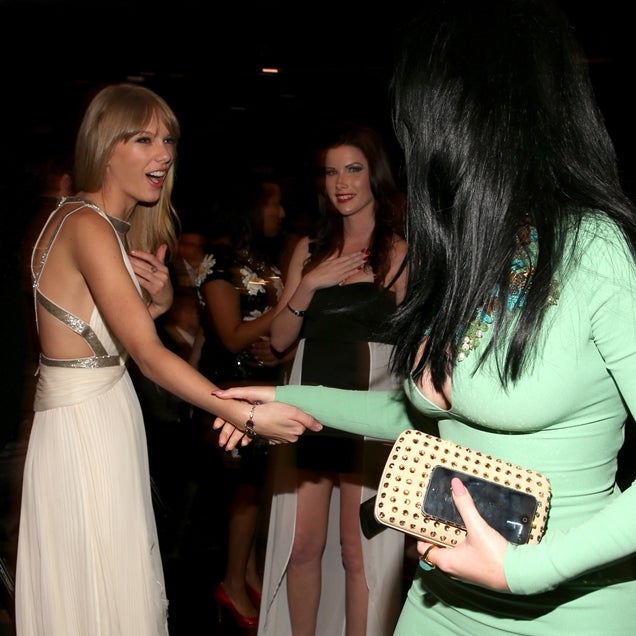 March 23, 2013: Perry (who sometimes refers to herself in the third person as "Mother" or "MommaCat") retweets a tweet by back-up dancer Scott Myrick comparing a cake Perry gave him to celebrate his birthday one year prior to a cake prepared for Taylor Swift on the occasion of her Red tour. "Mothers [sic] always watching..." adds Perry. Does not receive response.
May 22, 2013: For the first time since November 2011, Swift abruptly directs a tweet to Perry.
To casual observers this may seem like a friendly response to a humorous photo of herself that Perry had tweeted earlier in the day.
But these tweets were almost certainly sent in the midst of Perry's successful behind-the-scenes coup to prematurely hire back three of her tour dancers.
Katy does not respond to this tweet.
February 2014: Katy Perry ceases dating Taylor Swift's ex-boyfriend singer-songwriter John Mayer.
September 9, 2014: Katy Perry tweets what is widely interpreted as a thinly veiled knock against Taylor Swift. Receives analytical blog post on Gawker.com. Does not receive response.
[Images via Getty / TaylorSwift.com // Examiner interview h/t ONTD]