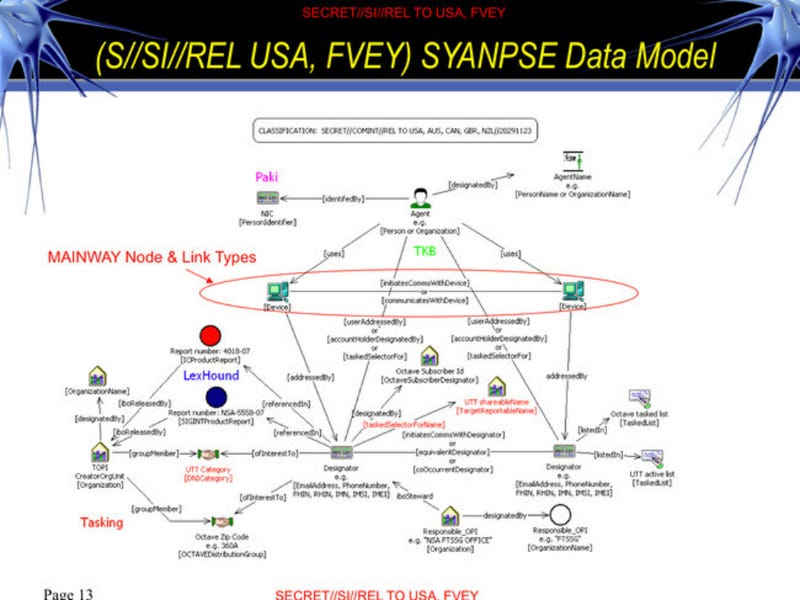 In a report based on another set of documents leaked by Edward Snowden, journalists James Risen and Laura Poitras detail how the NSA has created vast social networks for U.S. citizens through spying on emails, phone calls, and possibly cellular phone call locations.
Under a loose interpretation of laws that were meant to regulate their spying, the NSA began to analyze emails and phone calls in November 2010, in an attempt to "discover and track" the communications between citizens and foreign intelligence targets. The spying, however, extended far into the private electronic communications of thousands of Americans, as the agency authorized its spies to conduct "large-scale graph analysis on very large sets of communications metadata without having to check foreignness."
The agency then added public information like Facebook profiles, GPS location, and voter registration to create a social connections map (seen above in a slide taken by Snowden) not unlike the diagrams made to prove vast criminal enterprise (or conspiracy theories).
"All of N.S.A.'s work has a foreign intelligence purpose," an NSA spokeswoman told the New York Times. "Our activities are centered on counterterrorism, counterproliferation and cybersecurity."
Risen and Poitras describe how these new revelations show how revealing the data collected by the NSA can be:
Phone and e-mail logs, for example, allow analysts to identify people's friends and associates, detect where they were at a certain time, acquire clues to religious or political affiliations, and pick up sensitive information like regular calls to a psychiatrist's office, late-night messages to an extramarital partner or exchanges with a fellow plotter.
Another new piece of information reveals that after the NSA's phone tapping program was revealed by the New York Times in 2006, the agency's acting general counsel formally asked the Justice Department to allow the NSA to spy on phone and e-mail data. After initially rebuffing the request, the Bush administration gave the go-ahead to the program shortly before leaving office in 2008. The NSA then issued a new policy that allowed the gathering of metadata "without regard to the nationality or location of the communicants."
In addition, another document reveals program called "Mainway," which is a tool for collecting phone data and connecting that information to the profiles of individual citizens. Since August 2011, one telephone provider has been sending 1.1 billion cellphone records daily to the NSA, through its Mainway tool.
Freelance journalist Poitras, who broke the Snowden leaks with the Guardian's Glenn Greenwald, worked with the New York Times's Risen for this report, as part of the new partnership between the Guardian and the Times after the Guardian encountered incredible hostility from Great Britain, including the destruction of hard drives containing the Snowden leaks. Of course, there were multiple copies.
Risen himself faces possible jail time after refusing to testify in the criminal trial of one of his sources, a CIA official.
[Photo via NSA]