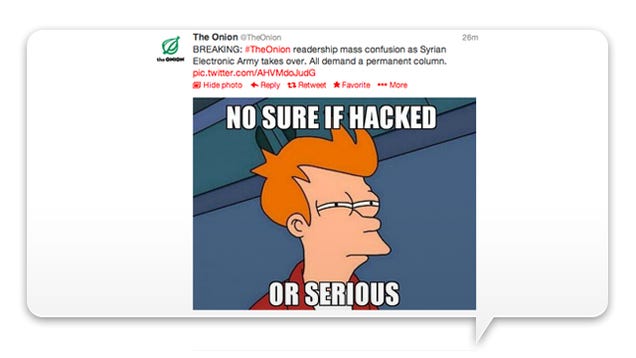 A few minutes ago, The Onion's official Twitter account let loose a series of tweets that suggested it had been hacked by the Syrian Electronic Army, the same outfit responsible for taking down the Associated Press' and CBS' account. Of course the possibility of this being some meta-joke has twisted everyone's brains into pretzels.
Here are the tweets, which seem very similar to other tweets by the Syrian Electronic Army, a group of angry nerds who support Assad's regime by hacking twitter accounts and defacing websites with pro-Assad messages:
The unfunniness of the jokes suggests that this is not The Onion. Of course it could just be the onion doing a spot-on impression of an anti-Isareli hacker. But according to Business Insider's Adam Taylor, a hacker named Th3 Pro, one of the SEA's leaders, sent along a screenshot to prove he was behind the hack.
If The Onion truly was hacked, then that leaves about three media organizations that haven't been taken over by Syrian hackers. Maybe everyone should just find a new social media platform.