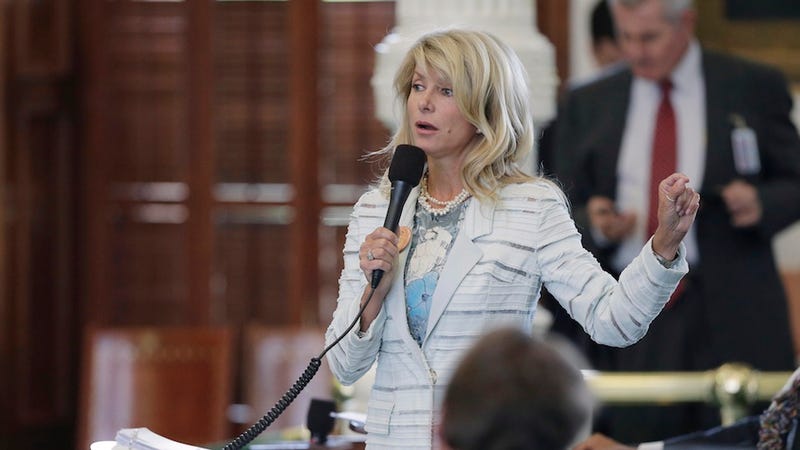 Shortly after 10 PM CDT, Texas State Senator Wendy Davis, in hour 11 of her historic filibuster to prevent an anti-abortion bill from passing, received her third point of order or warning, effectively meaning that the filibuster was over. Except it wasn't. The crowd erupted in protest and Senators have spent the past 40 minutes or so debating whether the point of order violated the Senate's rules. Watch live below:
And here's video of protesters shouting out after the third point of order was declared:
The Texas Tribune has a liveblog of the proceedings. We'll update once we know more.
UPDATE 1:18 AM: Both the Associated Press and CBS News are saying that Republicans passed the bill, but based on the live video, there's been no such official confirmation yet.
UPDATE: 1:26 AM: Here's the scene inside the Capitol's rotunda just before midnight:
UPDATE 1:31 AM: Video of Texas State Senator Leticia Van de Putte asking, "At what point must a female Senator raise her hand or her voice to be recognized over her male colleagues in the room?"
Van de Putte's question was followed by roughly 15 minutes of shouting and applause from spectators and protesters.
UPDATE 1:47 AM: The live stream for the Texas State Senate just ended. There's still confusion about the bill and whether it was voted on before the midnight deadline. There have also been reports of protesters being arrested. Here's a live stream from inside the Capitol's rotunda.
UPDATE 2:01 AM: From the Texas Tribune live blog:
12:02 a.m. — that's the time state Sen. John Whitmire, D-Houston, says the Senate timestamp shows a vote taken on Senate Bill 5. If that's true, the vote may not withstand legal scrutiny.

"It's pretty conclusive that it didn't pass," said Whitmire. The Senate still has not officially adjourned sine die, although the special session legally ends at midnight. When Senators resume floor proceedings, Whitmire said Democrats will call a point of order on the motion to vote on a bill after the midnight deadline.
UPDATE 2:18 AM: The Texas State Legislature's website shows that the vote occurred and the bill did pass, though the site initially said the vote took place on 6/26 or after the midnight deadline. The time stamp was later changed to state that the vote took place on 6/25, before the midnight deadline.
Meanwhile, Texas State Rep. Bill Zedler had this to say about protestors in attendance:
We had terrorist in the Texas State Senate opposing SB 5

— Bill Zedler (@Bill_Zedler) June 26, 2013
UPDATE 2:31 AM:
And it's still not over yet:
Senate just ordered senators back for a caucus to determine whether they passes SB5. Just when you thought it couldn't get stranger. #txlege

— Statesmanmike (@mikestatesman) June 26, 2013
UPDATE 2:50 AM: The Texas Senate live stream is back online.
UPDATE 3:20 AM: There are now reports that SB 5 did not pass.
Cecile Richards just told Capitol rotunda activists #sb5 is dead. Cheers. Crying. Hugs. #txlege

— Aman Batheja (@amanbatheja) June 26, 2013
[Image via AP]