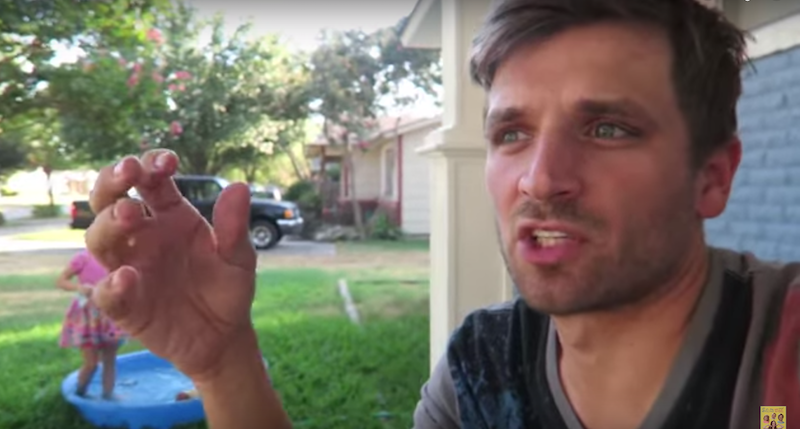 According to reports from other vloggers who attended the conference, the viral Christian vlogger Sam Rader was ejected from the Vlogger Fair conference in Seattle yesterday for "threatening violence" against one or more people. This incident allegedly occurred just one day after Sam admitted to using a paid account on the cheating website Ashley Madison.
I reached out to Sam for comment earlier this week about the Ashley Madison hack and did not hear back. This morning, I reached out again to discuss the Vlogger Fair incident, and he called me back almost immediately.
In our phone conversation, Sam admitted he was kicked out of the conference. At first, he said he did not threaten anyone, but later admitted to making a threat against one person, whom he would not identify. He explained, "It was one person, and I didn't make a threat. What happened was there was a couple of fellow vloggers who had ridiculed our family on Twitter regarding the method we were mourning the loss, our miscarriage on Twitter."
(Sam is most famous for "surprising" his wife Nia with her own positive pregnancy test in a viral video. Three days after that video was posted, Nia tearfully announced she miscarried.)
Sam told me that problems at the conference began on Friday, when he approached one of the vloggers and "told him he had hurt our family and that was that." On Saturday, Sam said that this vlogger "got in my face" and "put his chest up against mine" and that there was a verbal altercation from there. Sam admits that after this incident, the organizers kicked him out of the conference. He said he does not know if the other vlogger was asked to leave.
When asked to clarify whether or not he threatened anyone, Sam told me, "That's absolutely not true. If I made a threat, it was to the one person, and it was, 'You need to watch out before he messes with my family.'"
The vlogger and singer/songwriter Meghan Tonjes first accused Sam of threatening other vloggers in a series of tweets yesterday.
She then thanked the Vlogger Fair organizers for keeping conference guests "safe" by ejecting Sam from the venue.
When reached for comment, Vlogger Fair program director Liz Bradshaw stated that Sam and Nia left the conference early "for personal reasons," but later added that "VloggerFair prides itself on being an event where our guests and community feel welcome and safe."
Sam would not comment further on the Vlogger Fair incident and stated that he would be posting a video about it soon. He also would not comment the Ashley Madison hack or respond to critics who say his viral pregnancy/miscarriage videos were faked. "All that you're asking me is in my videos," he explained.
---
Contact the author at allie@gawker.com.