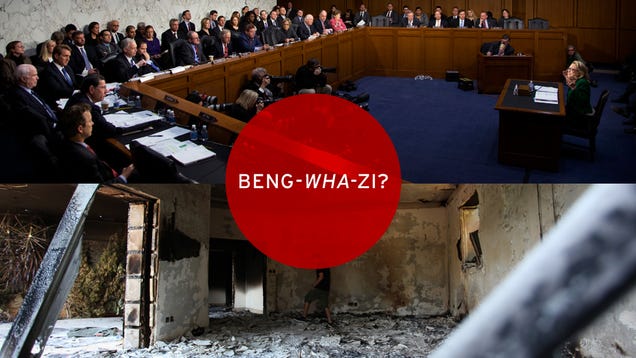 Your uncle has been posting on Facebook about "Benghazi" or whatever for months now, and you have no clue what the fuck he's talking about because, really, you don't have time for this shit. It's OK. We do. Here's your guide.
What the fuck is all this Benghazi shit?
On September 11 of last year (you might remember), an attack on the American consulate in Benghazi, Libya, ended in the death of four Americans: staffers Sean Smith, Glen Doherty, and Tyrone Woods; and U.S. Ambassador Chris Stevens.
Initially, the deaths were blamed by the Obama administration on a "spontaneous protest" like the many taking place that day over the anti-Islam film (or film concept) Innocence of Muslims. But it was later determined that the strike was a premeditated terrorist attack.
A few hours after Stevens' death was confirmed, Republican presidential candidate Mitt Romney released a statement accusing the president of "sympathiz[ing] with those who waged the attacks." For this, he was widely excoriated as someone trying to cash in politically on the killing of Americans.
Right, but, like: What the fuck? Why doesn't everyone shit their pants like this every time four Americans get killed in a foreign country?
Well, part of it is that Stevens, a widely respected career diplomat, was the first U.S. ambassador to be murdered in three decades.
The other is that Republicans and conservatives have convinced themselves that Benghazi is a major, Watergate-level scandal.
A Watergate-level scandal? Why the fuck would that be the case?
Well, the conservative actors don't seem to be able to agree on why, exactly; or, they agree that every single thing that happened that day was scandal-worthy, somehow. (So far no one except the real crazies seems to have even insinuated criminality, but people died so of course it's worse than the outright crimes perpetrated by the White House in Watergate, somehow.)
In increasing order of craziness, here's what the proposed and possible scandals are:
So all this Benghazi shit is bullshit?
Most of it, yeah.
Okay, so, what's the fucking deal?
As befits a scandal as overdetermined as this one, there are a bunch of fucking deals. There's the deal where the State Department actually did fail to protect its employees, and should be held accountable, and only barely has been.
There's the deal where Republicans are trying to kneecap Hillary Clinton in advance of an anticipated 2016 run ("at the very least, Mrs. Clinton should never hold high office again," Paul writes in the Washington Times today).
There's the deal where this is a sad, late mulligan on Romney's response, a little proto-revisionism to suggest that his doomed and incompetent campaign was defeated through the perfidy of the White House, rather than its own pointlessness and awfulness.
There's the deal where House Republicans and Fox News are trapped in a tight feedback loop, like two best friends with inexplicable inside jokes told in Oppish.
And there's the usual deal where Obama is a Muslim and he did 9/11, or whatever.