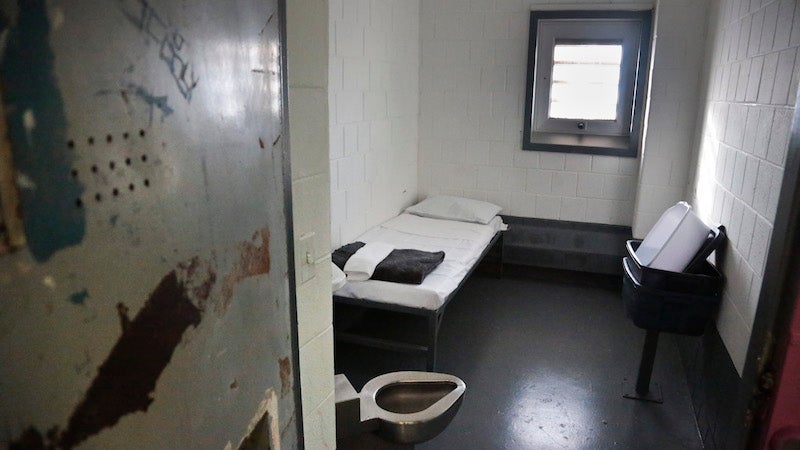 Candie Hailey did a three-year pretrial stint at Rikers Island before facing a jury on charges of attempted murder last year. She spent more than two thirds of that time in solitary confinement, and attempted suicide eight times. When Hailey finally got her day in court, the jury found her not guilty. "I would say I've been through hell and back," Hailey told the Associated Press. "My soul died but my body is alive."
An AP profile of Hailey published today shines light on the horrors of solitary and on the long pretrial jail terms that are commonly served by arrestees who are either denied bail or can't afford it. Hailey, who suffers from borderline character disorder and other mental ailments, was first sent to what Rikers inmates call "the Bing" after a fight with another inmate over shower-cleaning duty. After that, she rarely left for any extended period of time.
The AP describes a counterintuitive strategy that Hailey adopted for escaping solitary: if she behaved badly enough, she would be granted reprieve in the form of temporary mental health treatment. But after that, of course, it's back to the bing as penance for whatever transgression briefly got her out. "I would take the feces and I put it all over me," she said when describing this method. "I said, 'If you're gonna treat me like a dog, I'm gonna act like one.'"
Hailey's treatment at Rikers seems especially horrible when you consider that she was never convicted of a crime. Sadly, she's not the only one. Enger Javier, a man from the Bronx who steadfastly maintained his innocence, spent two years in Rikers and another two on house arrest without being tried for the 2012 manslaughter charge against him. Like Hailey, Javier was eventually freed. The prosecution dropped his charges this month after new evidence revealed the flimsiness of their case.
But Hailey's story most closely resembles that of Kalief Browder, who was arrested as a 16-year-old for allegedly stealing a backpack. Like Hailey, Browder spent two years in solitary before ever being tried, and attempted suicide multiple times; like Javier, he was ultimately released after the Bronx District Attorney dropped his charges. Last year, two years after his release, Browder was found dead, his body hanging from a hole in the wall.
"I think what caused the suicide was his incarceration and those hundreds and hundreds of nights in solitary confinement, where there were mice crawling up his sheets in that little cell," Browder's lawyer told the Los Angeles Times at the time. "Being starved, and not being taken to the shower for two weeks at a time … those were direct contributing factors.… That was the pain and sadness that he had to deal with every day, and I think it was too much for him."
---
Image via AP. Contact the author at andy@gawker.com.