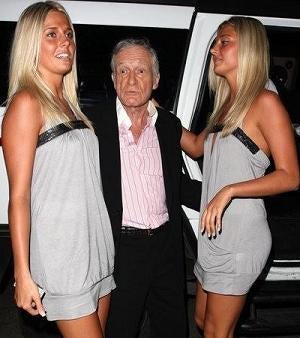 Yesterday, Hugh Hefner's main bunny Holly Madison
confirmed reports
that she had escaped the Viagra-fueled fantasia that is the Playboy Mansion, and today brings the strongest rumors yet that Hef has chosen to replace Madison with a set of 19-year-old twins. According to
Buzznet
, their names are Kristina and Karissa Shannon, and a simple Google search turns up a modeling profile for the duo where they tease (in a grammatically suspect treatise to beat the band) that they will, indeed, be appearing on the next season of
The Girls Next Door
. The announcement in their own misspelled words (plus two more pictures that are a strand of black dental floss away from being totally NSFW), after the jump: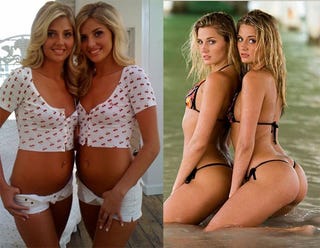 we are kristina & karissa shannon we are idenical twins we work well together and have worked for winghouse doing advertisement for 3 yrs. and are now working on the centerfold for playboy!!!we are new playmates and are exploding fast we are going to be shooting the girls next door show while doing our centerfold while we are out at the mansion in LA we love modeling,acting, and are very outgoing with great,fun ,and exciting personality's! we are interested in doing movies,commercial's, host events exc.We have done commercials and billboards and the cover of the swimsuit calender's and things for winghouse!
We were somewhat curious about the much-mentioned "winghouse," so we did some further digging and can narrow the Winghouse in question to one of two alternatives: either the twins posed for this
Hooters knockoff
, or they've kindly devoted their time to cheering up
adult survivors of traumatic brain injury
. Either way, their sparkling "personality's" should help them take the Mansion by storm! Enjoy your high-flying, semi-incestuous new life, ladies!